Amy Ephron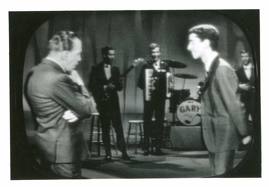 Back in the days when evening television was interactive family entertainment, when Ed Sullivan and "College Bowl" were on, my family used to gather in the TV room. In our house, that was the bar. It had a Fleetwood television built into the wall, with the controls built in next to the silk-covered sofa on which my mother would always lie, on her back, her head propped up by four pillows.
Next to her, on the coffee table, was a Dewars-and-soda on ice and a pack of Kent filters. My sisters and I would lie on the floor, my father would sit in his teak rocking chair, and we would watch television and eat TV snacks—clam dip baked on toasted Pepperidge Farm white bread; Beluga caviar, whenever anyone sent it over; a really disgusting (but great) dip made out of cottage cheese, mayonnaise, chives, and Worcestershire sauce, with ruffled potato chips; and Mommy's favorite, blanched and toasted almonds.
"Oh, goody," she would say, " 'College Bowl' is on tonight. Let's make blanched almonds."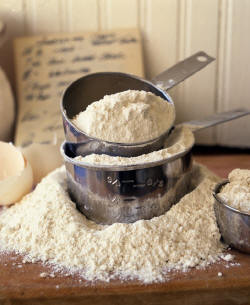 I'm not really a baker. I make perfect oatmeal cookies (once every three years), perfect chocolate chip cookies (if really bored – Laraine Newman thinks the Joy of cooking recipe is the best, I just use the one on the back of the Nestle's chocolate bits bag) The secret to chocolate chip cookies is fresh nuts, if you ask me, the quality of the pecans or the walnuts, changes the equation. Sometimes, if I'm feeling really wild, I'll make butterscotch chip cookies, same recipe, but butterscotch bits instead of chocolate and totally delicious.

I went through a phase where I made bread (when I was at boarding school in Vermont and there was a Country Store down the road that sold 100 varieties of flour from the grist mill down the road) so it was sort of hard to resist. And we didn't have a television, but we had a kitchen in our dorm with a sweet old Wedgwood stove and somehow, the smell of bread, and an occasional roast chicken, made it feel somewhat more like home. But I can't really find good flour any more and fresh baguettes abound.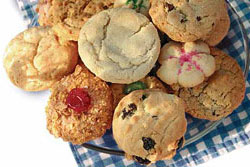 I have a theory that in order to be First Lady you have to have a cookie recipe.
Martha Washington had a cookie recipe: jumbals. (Jumbals have fallen out of fashion but they're a little like a pretzel made out of biscuit dough.)
Mary Lincoln had a cookie recipe: gingerbread men, which is exactly what you would expect, if you were "writing a cookie recipe" for Mary Lincoln.
Jackie Kennedy didn't exactly have a cookie recipe, she had a peanut brittle recipe (and, also, quite a good recipe for creme brulee) but she was Jackie Kennedy and it was the '60s and if you wanted a cookie really badly, peanut brittle might do the trick.
Pat Nixon did not have a cookie recipe. She had a brownie recipe and further to my theory, he had to resign.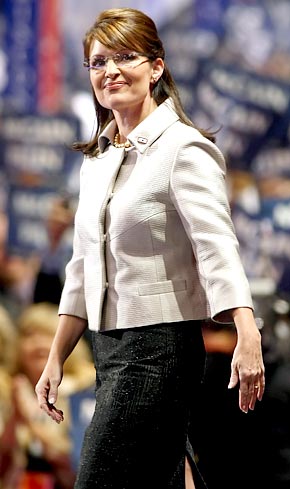 If I were running for Vice-President, what would I wear? In light of Sarah Palin's recent clothing expenditures ($150,000 and counting), it occurred to me to wonder if I were running for Vice-President, what would I wear? I'm a Brentwood Mom. Jeans? Sweats? No, probably not.

But Sarah Palin's put herself out there as a one-woman beauty pageant. I've never seen her wear the same thing twice. By the way, there's nothing wrong with wearing the same thing twice. Same jacket, different skirt, same jacket, different top. By the way, t-shirts look perfectly fine under a fancy jacket. Could someone teach this girl to accessorize?
Newsflash: no one ever sees your feet, mostly you're standing behind a podium.
Fashion tip: cranberry goes with almost everything. One pair of cranberry heels, one pair of black heels, one pair of beige heels, a couple of pairs of boots, on a particularly long day – wear flats.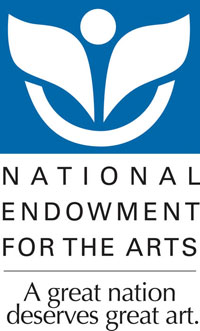 There is a movement to strip billions of dollars from the stimulus bill led by Ben Nelson of Omaha (whose Democratic status is debatable) and Susan Collins (Republican) of Maine.

Included in the cuts are $50 million for the National Endowment for the Arts (of course), $14 million for cyber security research by the Homeland Security Department (that makes sense?), $1 billion for the National Science Foundation (are they kidding – when we're this close to ground-breaking stem cell research, understanding the nature of viruses, struggling to keep our oceans alive, not to mention the catastrophic potential ozone depletion – the model's still the same even though we've stopped emitting...), $400 million for research and prevention of sexually transmitted diseases (hasn't anyone thought about the amount we would be saving on health-care behind this initiative and how many jobs would be created by it?), $850 million for Amtrak (right, people should drive their own car to work and not take the train, or God forbid, carpool and coupled with the tax incentive to buy a new car, wonder who's lobbying for this one – the only person this helps is GM and Exxon and the banking industry, God bless them), and $400 million for climate change research (oh, I forgot, we still don't believe it exists and we haven't signed the Kyoto Agreement...) Really, are they kidding?!!!!