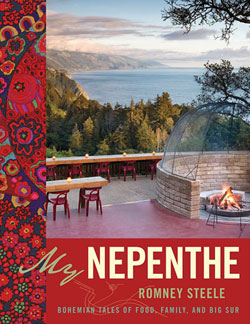 My first visit to Nepenthe Restaurant in Big Sur, California was in the fall of 1983. It was a hot day and we sat outside on the massive terrace with a cold drink – in those days white wine, or possibly beer – and looked down at the unbelievable view. A view of the Monterey coast that went on forever. I've never forgotten that first visit. Or that first view. Yes, the parking lot was full of rental cars, and yes, there were crowds of tourists snapping photos but none of that mattered. I didn't know what to expect as we climbed the winding stone steps up through a canopy of oak trees to the restaurant. But once I stepped foot onto the large terrace and saw the view, I understood the magic of Nepenthe. No matter where you are at Nepenthe, the Phoneix Shop, the Café Kevah or the restaurant itself, the view is there. Always and forever. In my memory there were hawks floating on thermals almost at eye level. That is how high up Nepenthe is. In the clouds. At the end of our drinks it was very hard to pull myself away. Over the years I have gone back to Nepenthe each time I visited the area. How can one not visit such a spectacular place?

I was thrilled when I heard that a granddaughter of the original owners had written the Nepenthe story in celebration of its' 60th anniversary. I was even more excited when the book arrived on my doorstep. It is everything a book like this should be: a celebration of a place and time, a memoir from someone who lived it, and a cookbook with both family and restaurant recipes. I was recently in Big Sur, and I took Robert to Nepenthe for his first time. It was a joy to be back, and to see the magic at work on someone else. He was just as wowed as I was on my first visit. I love the Bohemian-hippy vibe that still exists in Big Sur and thankfully author, Romney Steele, infuses her writing with a lot of that historical detail. Nepenthe was and still is a gathering point for all sorts of interesting and unique souls. From writers, to artists and artisans, to film people, to through-voyagers. As a child Romney Steele was lucky enough to watch it all happen. From stories of her grandparents Bill and Lolly Fasset who bought the property from Orsen Welles and Rita Hayworth in 1947, to frequent visits by writers Henry Miller and Jack Kerouac, to filming of the Elizabeth Taylor-Richard Burton movie The Sandpiper, Ms. Steele was witness to it all. And a magical storyteller she is, as well as an accomplished cook.

The book is woven through with history, stories, memories, archival photos and recipes. Many of the non-archival color photos are beautifully shot by Sara Remington. The look and feel of the entire work is evocative of the free-living Bohemian lifestyle that permeates Big Sur's past and present. For me it was a fun read as I have been to Nepenthe, and to Big Sur many times over the years; it was wonderful to learn more about the history of both the restaurant and the area. Nepenthe is woven into the fabric of Big Sur and vice versa. They are a part of each other. I tried several recipes from the book and all worked very well, and were a pleasure to eat. On a recent Sunday I cooked this menu: 'Lolly's Roast Chicken with Sage Stuffing,' 'Cranberry Sauce,' 'Beet Salad with Sherry Vinaigrette' and 'Lemony Lemon Squares.' This time Robert and I were the only guests; we devoured everything, and loved it all. A few of the leftover lemon bars were passed along to family and friends – all of whom have asked for the recipe, they were that good.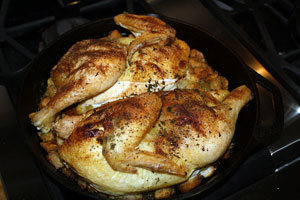 What I like about the food in this book is that it fits in with the down-to-earth vibe the book embodies. Ms. Steele encourages use of local, sustainable ingredients. In fact she has a chart at the beginning of the book, 'Cooking notes,' that tells, (and suggests to), the cook the nature of each ingredient used when she developed and tested the recipes: 'Meats are prime,' 'Baking powder is aluminum-free,' 'Fruit is seasonal, organic if possible, and preferably locally grown,' and so on. This isn't fancy, five-star cuisine nor should it be. The food is earthy, hearty, filling and direct. It's food that makes sense for a restaurant and place perched high atop a hillside above the crashing surf in the wilds of Big Sur. Steele encourages the reader to find their own Nepenthe within the pages of her book. Steele is my kind of cook, this is my kind of book, I expect to pick it up often to both cook from, and to read more and again about life at Nepenthe. My Nepenthe.
Charles G. Thompson is a Los Angeles-based freelance food writer, whose reviews and stories can be found at his blog 100 Miles, an exploration of local sustainibility.