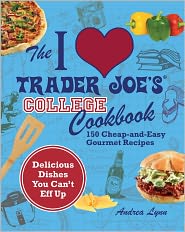 When I was in college I had a vegetarian friend who ate the same thing every single day for lunch, "a meatless burger." It wasn't a chewy veggie burger or a hearty black bean burger. Oh, no, her meatless burger consisted of lettuce, tomato, mayo, and a single slice of American cheese piled neatly on a hamburger bun. Every day for four years. It was tragic.

It's too bad Andrea Lynn's new book, I Love Trader Joe's College Cookbook: 150 Cheap and Easy Gourmet Recipes
wasn't out then. I would have bought it for her. She would have loved it, especially the chapters on "Sandwiches & Salads" and "Vegetarian Main Meals" that include tasty options such as Almond Butter and Banana Sandwiches, Teriyaki Tofu with Baby Broccoli.

All of Lynn's recipes feature Trader Joe's signature products, so you won't have to trek from market to market searching for items. It's really a one-stop-shopping cookbook ideal for both cash- and time-strapped college students. And kitchen novices. And working moms and dads. And anyone looking for easy recipes and trying to save money.
Lynn provides colorful recipe icons that help you select the recipe that's right for you. They include microwave meals, no-cook meals, one-pot meals, and more. "Tips & Techniques," include a few kitchen basics such as "how to boil an egg" and "how to cook al dente pasta."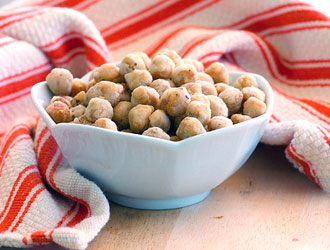 Chapters are divided by meal category, and recipes, which average 5 to 7 ingredients, are clearly written and easy to follow. Delicious pasta dishes including Chickpea Penne and Portobello Mushroom Ravioli clock in at under 15 minutes. Even more impressive "Special Occasion" recipes such as Israeli Couscous with Lemon Shrimp and Wasabi Coated Chicken take about 30 minutes.

Parents who are paying for their kids' tuition will want to hi-light the chapter called "Quick and Hearty Brain Food for Finals" featuring fortifying breakfasts such as Microwave Scrambled Eggs and Smoked Salmon, nutritious snacks such as Very Berry Smoothies, and belly-filling dinners such as Lentils with Chicken Sausage. Just don't tell them about the boozy Kahlua Spiked Chocolate Milkshakes.

While it's too late for me to help my friend, it's not too late for you. So, please, if you're a college student, harried mom, single dude, or anybody looking for inexpensive, easy, and great-tasting recipes, do me a favor -- skip the sad "meatless burgers," and get a copy of Andrea Lynn's I Love Trader Joe's College Cookbook
.
Fried Chickpeas
Yield: 4 servings
Prep Time: 5 minutes
Cooking Time: 10 minutes

1⁄4 cup cornstarch
1⁄4 cup flour
1 teaspoon kosher salt, plus more for sprinkling
1 (15-ounce) can chickpeas, drained
canola oil, as needed

1. Line a plate with a paper towel. In a large bowl, combine the cornstarch, flour, and salt. Working in batches, add the chickpeas to the cornstarch mixture, coating thoroughly.

2. Toss the coated chickpeas into a strainer, shaking to remove excess coating.

3. In a large heavy deep pan, heat 1 inch of oil over high heat until shimmering.

4. When the oil is hot, add half the chickpeas and cook until crisp, 3 to 4 minutes. Transfer with a slotted spoon onto the prepared plate. Repeat with the remaining chickpeas. Sprinkle salt over the fried chickpeas.
Susan Russo is a free lance food writer in San Diego, California. She publishes stories, recipes, and photos on her cooking blog, <Food Blogga and is a regular contributor to NPR's <Kitchen Window. She is also the author of Recipes Every Man Should Know
and The Encyclopedia of Sandwiches
.