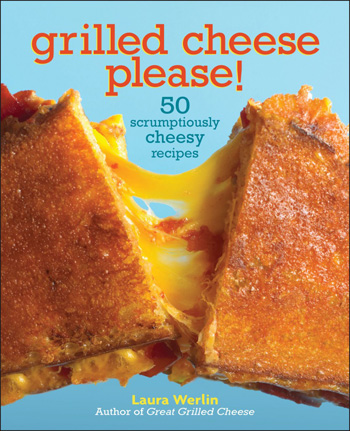 April is National Grilled Cheese Month so highly appropriate for Laura Werlin's newest book "Grilled Cheese, Please!
" Werlin has quite the cheese expert pedigree having written four previous books on the subject which have won James Beard, IACP and the World Gourmand Awards. Who doesn't like grilled cheese? It has to be one of the most comforting of all comfort foods. A basic grilled sandwich, like those from many of our childhoods, is comforting enough but up the ante the way Werlin has and it's food nirvana.
"Grilled Cheese, Please!" has fifty different grilled cheese recipes and covers eight chapters: Just Cheese, Meat and Cheese, Anything Goes, Veggies and Cheese, Global Grilled Cheese, Grilled Cheese on the Go, Regional American Grilled Cheese, and Old Favorites and Modern Sides. The chapter Grilled Cheese on the Go features recipes from popular grilled cheese restaurants and food trucks. One of my favorite parts of the book appears in the Introduction: Werlin's rules for making the "best" grilled cheese. Grate the cheese, don't slice it; spread the bread not the pan [with butter]; go low and slow are a few. They work.
I followed them, and the end products were the best grilled cheese I've ever made. Some of my favorite recipes include Double Cheddar and Tomato Jam (hearkens back to that childhood staple!); Camembert and Comté with Mushrooms; Burrata with Roasted Peppers and Arugula. The book ends with recipes for sides to eat with, or things to put on your grilled cheese sandwich (part of the Old Favorites and Modern Sides chapter). Pickled Cucumbers, the Italian candied fruit Mostarda di Medditerranea, chutney, and Tomato Jam.
When I first received the book I was unaware of who Laura Werlin was. After learning more about her in this book, and seeing what she knows about cheese, I know I am in very good hands. Her inventive riffs on grilled cheese are fun, taste really good and satisfy immensely. I'll be grabbing this book regularly for lunchtime inspiration, and for the joy of eating grilled cheese. With fifty recipes to make the possibilities are endless.
Happy National Grilled Cheese Month!
Charles G. Thompson is a Los Angeles-based freelance food writer, whose reviews and stories can be found at his blog 100 Miles, an exploration of local sustainibility.