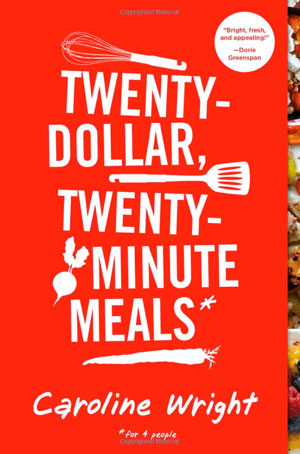 I can't exactly remember when I met Caroline as this whole online food world introduces you to so many people on a regular basis. But I do remember this: instant connection. Bright. Fun. Sharp. All the qualities I love in friends, and the fact that she knows food made it all the better.
So when she told me she was writing a book, Twenty-Dollar, Twenty-Minute Meals
, I couldn't help but get excited. But little did I know this book would actually help me. As in I-need-something-quick-n-easy-but-still-delicious kind of help, and early on while reviewing the galley of the book I noticed myself actually cooking from it. And it's not that I don't mean to cook from the books written by my friends, but after spending all day in the studio with food I don't usually get excited enough to step into our kitchen at home. Caroline has changed this.
I wrote her a quick email and thanked her for really amazing solid recipes that feature ingredients that get me excited. And then I thanked her for the Cacio e Pepe recipe that has literally become a staple for us. As in once-a-week, as in super easy and delicious. And while I've tried quite a few recipes for this dish that features a delicious play between cheese and black pepper, I must tell you that this is my favorite and you will absolutely want to follow her steps for toasting. It makes all the difference in the world. Seriously. (And yes, I was lazy once and tried to skip it and it just wasn't the same, trust me on this).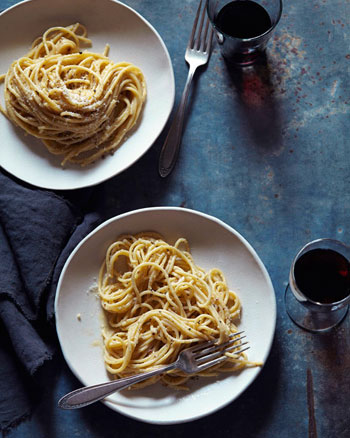 Spaghetti Cacio e Pepe
Bring a large pot of salted water to a boil and cook 1 pound spaghetti according to package directions. Drain the pasta (reserve 3/4 cup pasta water) and return it to the pot.
Meanwhile, heat a small skillet over medium heat. Place 2 teaspoons black peppercorns and 2 teaspoons Szechuan peppercorns in the pan and toast until fragrant, 2 to 3 minutes.
Place the peppercorns in a mortar and crush with a pestle until coarsely ground. Transfer the pepper to a medium bowl with 3 large egg yolks and 2 packed cups finely grated Pecorino Romano cheese.
When the pasta is done, stir 1/2 cup of the reserved pasta water into the egg mixture, add the pasta, and toss to coat. Stir in the remaining pasta water, if needed, to reach the desired consistency.
Season with salt, and serve immediately.
Excerpted from Twenty-Dollar, Twenty-Minute Meals, Copyright 2013 by Caroline Wright. Used by permission of Workman Publishing Co., Inc. New York. All Rights Reserved.