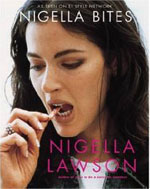 How do I love Nigella? Let me count the ways. Sometimes she's bigger, and some times she's smaller, but she's always incredibly beautiful. She is incredible intelligent and well-educated, and has had some incredibly hard knocks (including the death of her first husband) and survived with consummate grace. She is a mother over 40 who oozes sex appeal, admits to cooking pasta for herself to eat in bed while watching television, and deep fries candy bars in batter. Most important, in an age of molecular gastronomy and foodie preciousness, she cooks food that is simple, sensuous and exactly what you were yearning for but couldn't name until you saw the recipe.
I have all of her cookbooks, but my favorite for actual cooking is Nigella Bites
. The recipes are mostly family-friendly and attainable, the writing style is chummy, and the pictures are splendid. There are certainly recipes I can't cook for my family - Asian-Spiced Kedgeree and Whitebait come to mind - but there are many more that I can and do cook fairly often. The Easy Sticky Toffee dessert is to die for, and I've made it for my own family and for guests, all of whom have practically licked their plates in transports of ecstasy. The Sticky Toffee dessert is part of a suggested Sunday Lunch for 12 which includes a Slow Roasted Aromatic Shoulder of Pork which is crusty outside, tender inside and wonderful in all possible ways.
Nigella's recipes are not always as perfect as, say, Thomas Keller's; I use them more as a general contour than a precise set of instructions. She is not a trained chef and doesn't pretend to be. They are mostly not "haute," and that's okay; its why we should have more than one cookbook on the shelf.