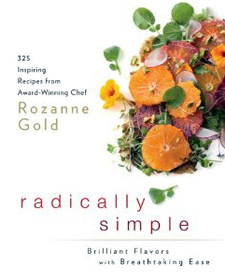 Like many home cooks, I'm always looking for new recipes and cookbooks that will elevate the quality of the meals I cook. The trouble is I want great food without having to buy a ton of ingredients or spending hours in the kitchen. I know, I should just stop being lazy and encourage my inner chef, but after cooking over 10 recipes from Rozanne Gold's new book, Radically Simple, I think I've found what I've been looking for. Though she's new to me, apparently Gold has been around and acclaimed for quite some time, mostly for her 1-2-3 cookbook series that delivers delicious recipes simply and with only a few, usually three, fresh ingredients.

She continues that model here, but takes it up a notch on the sophistication scale. The point in this book isn't just to use a minimum of ingredients, but to get the best results with the necessary ones with as little work as possible. Though there are many beatifully published cookbooks, most of them sit on the shelf, at least in my house, until needed for a special occasion or when I'm just looking for anything different to cook. This one inspired me to get in the kitchen and create meals from it everyday. And you can. She covers the bases from Brunch to Dessert with classy and modern, yet still homey, takes on many traditional dishes.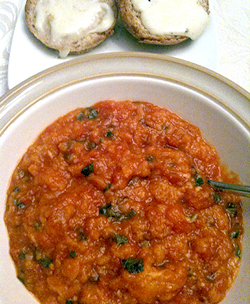 Some favorites so far: Lemony Arugula & Sun-Dried Tomato Salad with Smoked Mozzerella that we paired with her Chicken Parmigiana, which delivered the flavors you expected but in a lighter, fresher way; Pappa al Pomodoro, a tomato, cheese and bread soup that was hearty enough to satisfy my meat-eating husband; Manchego Chicken with Prosciutto and Arugula paired with Roasted Brussels Sprouts with Dates and Steak Tenderloin with Balsamic, Rosemary & Gorgonzola paired with White Beans, Spinach, Tomatoes and Rosemary made our usual weeknight dinners much more special.

Being a wine lover I couldn't resist the recipe for Pasta Cooked in a Bottle of Wine. Could five simple ingredients make a delicious dish in 20 minutes? Even after using this book for over a month with great success, I have to say I was doubtful. We usually like our pastas doused with sauce and I wasn't sure the subtlety of this preparation would fly. I was wrong. It wasn't our favorite meal, but it was still pretty delicious considering it was mostly only pasta and cheese. We didn't even miss the sauce. Plus, it couldn't really have been any easier.

All I know is that RADICALLY SIMPLE lives up to its name and is cookbook that you'll find in my kitchen and not on a shelf. The recipes require high quality ingredients to truly shine, but since you don't need that many per dish it's not problem. Personally, I can't wait to make the Cheese Strata with Prosciutto, Basil and Spinach for Christmas morning.
PAPPA AL POMODORO
From Radically Simple
This famously soupy dish, thickened with bread instead of pasta, is much like a pasta course-- deeply satisfying and a great way to begin a meal. It's a good excuse to use your best extra-virgin olive oil, which should be drizzled on right before serving. A Tip: The best way to "chop" canned tomatoes is to use scissors to snip them right in the can.
1/3 cup extra-virgin olive oil, plus more for drizzling
3 large garlic cloves, thinly sliced
28-ounce can plum tomatoes in puree, chopped
2 cups chicken stock
4 ounces baguette, cut into small pieces, about 5 packed cups
1/3 cup chopped fresh basil
Large pinch hot-pepper flakes
3/4 cup freshly grated Parmigiano-Reggiano or Pecorino Romano

Heat the oil in a 4-quart pot. Add the garlic and cook until soft but not brown, 1 minute. Add the tomatoes and stock; bring to a boil and cook 10 minutes over high heat. Add the bread and cook 8 minutes, mashing with a potato masher until all the ingredients are integrated and the bread is very soft. Add the basil, pepper flakes and salt. Cook 2 minutes longer. Stir in 1/2 cup of the cheese. Ladle into bowls and drizzle with additional oil. Sprinkle with the remaining 1/4 cup cheese.
Serves 4
Recipe courtesy of Radically Simple: Brilliant Flavors with Breathtaking Ease
. ©2010 by Rozanne Gold. All rights reserved. Published by Rodale Books.
Lisa Dinsmore is a writer, web programmer, movie and wine lover. She currently runs two review websites to share her passions: www.crazy4cinema.com and www.dailywinedispatch.com. She is also the Managing Editor of One for the Table.