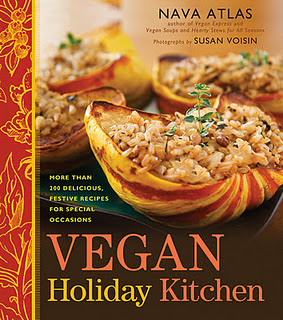 Making Thanksgiving dinner is hard enough for most people. For those who have guests with food allergies, it can be grueling. Mom can't eat the creamy mashed potatoes because she's lactose-intolerant. Aunt Amy skips the bread stuffing because she's gluten-intolerant. Uncle Henry is allergic to nuts, so he can't eat half the dishes on the table. Just order him a pizza.

As for dessert, well, it's practically a death trap. Classic Thanksgiving pies typically contain gluten, butter, milk, sugar, and nuts. Plus 1 in 2 Americans is pie-challenged. I know, I'm one of them.

Here's the answer to your Thanksgiving dessert dilemma: Make Nava Atlas's Apple-Pumpkin Delight from her latest cookbook, Vegan Holiday Kitchen
(Sterling, November 2011). It's gluten-free, soy-free, and nut-free, so everyone will be able to enjoy it. And you won't have to make a pie crust.

A veteran vegetarian and cookbook author, Atlas has created more than 200 festive, tasty, vegan holiday recipes organized into six chapters: Thanksgiving, Christmas and the Holiday Season, Jewish Holidays, Easter, Independence Day and Summer Entertaining, and Brunches, Appetizers, and Potluck Dishes.

In her introduction, Atlas says, "Holidays can be particularly trying for vegan who aren't part of a wider circle of like-minded eaters This book is dedicated to them – and to vegans of all stripes." Of course, be prepared for the carnivores at your table to gobble up many of these meat-free dishes.

Who could pass up autumn-inspired Coconut Butternut Squash Soup or Sweet Potato Biscuits? If you think gluten-free stuffing can't be delicious, consider Atlas's herb-laced Polenta, "Sausage," and Mushroom Stuffing or her softly spiced Wild Rice Stuffing with Dried Cranberries.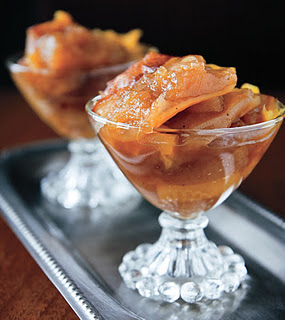 You'll find traditional holiday recipes such as Cranberry-Apple Sauce, Pumpkin Mini Loaves, and Ginger Cookies sharing space with modern dishes such as Red-Wine Roasted Brussels Sprouts, Baked Thanksgiving Risotto, and Mixed Greens with Green Apples, Beets, and Pistachios.

The book's design is clean and inviting, and Susan Voison's photos are attractive. While some recipes have longer ingredient lists, most are short, and recipe instructions are clearly written and uncomplicated. As for make-ahead recipes, Atlas notes that "most recipes just don't taste as good when they're made too far ahead of when they'll be used... Honestly, most of the recipes in this book are not so lengthy or complicated that they benefit from advance prep." Sprinkled throughout the book are useful cooking tips, entertaining suggestions, and notes about ingredients.

So whether you're looking for vegan holiday inspiration or just some new, healthy recipes, you should get yourself a copy of Nava Atlas's Vegan Holiday Kitchen.
Apple-Pumpkin Delight
Gluten-Free, Soy-Free, Nut-Free
Makes 8 servings

1 1/2 pounds sugar pumpkin, cushaw or any orange winter squash
2 pounds Granny Smith apples (about 3 or 4 large apples)
1/2 cup natural granulated sugar
1 teaspoon cinnamon
1/4 teaspoon nutmeg
1/3 teaspoon ground cloves
2 teaspoons cornstarch

1. To make the pumpkin easier to peel and cut, partially pre-bake it according to the directions on page 22. When cool enough to handle, peel the pumpkin and slice it into thin pieces about 1 X 2 inches (about 1/8 -inch thick; the size matters less than the thickness). Peel the apples and slice a little thicker than the pumpkin.

2. Preheat the oven to 400 degrees F.

3. Combine the sugar, cinnamon, nutmeg, cloves, and cornstarch in a small bowl. Oil a 2-quart casserole dish. Arrange half the pumpkin slices in the dish, and sprinkle with about 1/4 of the sugar mixture; arrange half the apple slices over the pumpkin and sprinkle with another 1/4 of the sugar mixture. Repeat the layers.

4. Cover with foil and bake for 30 minutes. Remove the foil and bake for 15 minutes longer, or until a knife inserted in the center goes through easily. Serve warm or at room temperature in individual dessert cups.
Susan Russo is a free lance food writer in San Diego, California. She publishes stories, recipes, and photos on her cooking blog, <Food Blogga and is a regular contributor to NPR's <Kitchen Window. She is also the author of Recipes Every Man Should Know
and The Encyclopedia of Sandwiches
.