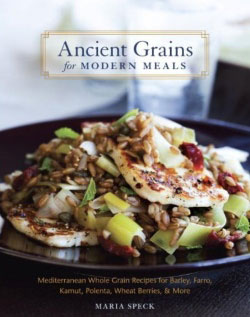 There are people out there who don't want you to enjoy eating. You know who they are – the carb-averse, all fat-fearing folks consumed with diets and detox. Maria Speck, author of the beautiful new cookbook, Ancient Grains for Modern Meals
, is not of them.

In her introduction, Speck, in her refreshingly direct tone says, "Almost every conversation about my passion for whole grains evoked this well-meaning remark: 'Your diet must be very healthy.' This comment always leaves me speechless, because health is the last thing on my mind when I eat."

What is on her mind is cooking with unprocessed, real foods – fruits, vegetables, meats, and whole grains -- that are full of flavor and which happen to be healthy. Speck began eating whole grains while growing up in Greece and Germany. As a kid, she noshed on oats, wheat berries, and bulgur and as an adult has committed herself to exploring their delicious potential.
In the first section of Ancient Grains for Modern Meals, Speck describes a wide variety of whole grains from prosaic grits and rice to more exotic kamut and farro. She tells you how to buy, store, and cook with whole grains, and even provides a helpful table with measurements and cooking times.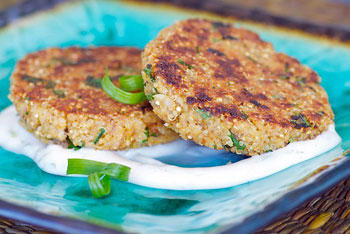 Chapters are divided into standard meal types with a special chapter called "Modern Mains," in which Speck encourages you to "explore these ancient grains in your twenty-first-century kitchen." Recipes include Spelt Crust Pizza with Fennel, Prosciutto, and Apples and Saffron Risotto with White-Wine Clams and Peas. I am especially impressed with the "Breakfast, Brunch, and Breads" chapter which includes innovative and even sexy recipes. Consider these: Dark Chocolate Muesli with Hazelnuts, Apricot-Lemon Bars with Cherries, and Fig Muffins with Creamy Goat Cheese Filling.

Recipes are clearly written and include tips such as how to "get a head start" or how "to vary it." Interspersed throughout the book are engaging stories from Speck's worldly travels as well as call-outs boxes with cooking tips and food history. Sara Remington's photography is luscious. My only disappointment is that there weren't more photos.

So if you're looking to incorporate more whole grains into your diet (and feel and look better too), then make room on your bookshelf for Ancient Grains for Modern Meals.
Please click here for a printable version of the Quinoa Cakes with Smoked Trout and Lime Mayonnaise recipe.
Susan Russo is a free lance food writer in San Diego, California. She publishes stories, recipes, and photos on her cooking blog, <Food Blogga and is a regular contributor to NPR's <Kitchen Window. She is also the author of Recipes Every Man Should Know
and The Encyclopedia of Sandwiches
.