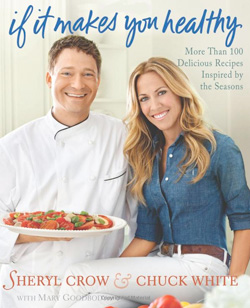 When singer/songwriter Sheryl Crow was battling breast cancer in 2006 (which thankfully she beat back) she knew it was "a wake-up call" to eat better. It was during this time that she met personal chef Chuck White (or "Chef Chuck" to his friends) who was, at the time, cooking for John Mayer's music tour and they discovered that they both lived in Nashville. Shortly after, Sheryl teamed up with "Chef Chuck" and they collaborated to create an inspired diet regimen that was best for her and her family. "Chef Chuck" quickly developed fun, tasty recipes that both Sheryl – and her two sons, Wyatt and Levi – would enjoy. Healthy, delicious, and sometimes eclectic (like Chuck's decadent Chocolate Mousse made with avocado), their resulting cookbook is truly original.
Chuck focuses on cooking foods that are seasonal, locally grown, and vitamin-rich to help keep her feeling fit and ready to meet the challenges of life both at home and on the road. If It Makes You Healthy includes around 125 recipes for summer, fall, winter, and spring. From spring zucchini to hearty winter squash, to the delicious Spring Vegetables with Quinoa, the recipes focus on the changing seasons. The book also gives the reader an inside look at some of the meals Sheryl eats with her crew – Mojito braised pork, and some of her kids favorites— basil and apple marinated chicken and healthy oatmeal cookies.
"In this book, I want to welcome readers into my kitchen and introduce them to Chef Chuck, the man who helped change my diet for the better," said Sheryl. "I hope my fans enjoy it and "If It Makes You Healthy: More Than 100 Delicious Recipes Inspired by the Seasons
" helps people achieve a healthier and happier way of eating and living. If the recipe that I tried for Roasted Spring Vegetables with Quinoa (which is just bursting with flavor) is any indication, her fans are in for some amazingly tasty – and healthy – home cooked meals.
Sheryl Crow's Roasted Spring Vegetables with Quinoa
1 bunch of asparagus, tough ends removed, cut into 1" pieces
1 cup diced zucchini
1 cup diced yellow squash
1 medium red onion, diced
2 teaspoons garlic powder
1 tablespoon canola oil, preferably expeller-pressed
Kosher salt and black pepper
2 teaspoons maple syrup
2 teaspoons apple cider vinegar
1/2 teaspoon Dijon mustard
2 teaspoons chopped fresh basil
1 teaspoon chopped fresh dill
1 teaspoon chopped fresh tarragon
1/4 cup olive oil
4 cups cooked quinoa (Ancient Harvest's brand)
2 cups loosely packed fresh spinach
1/2 cup roasted red peppers, diced (store bought or homemade)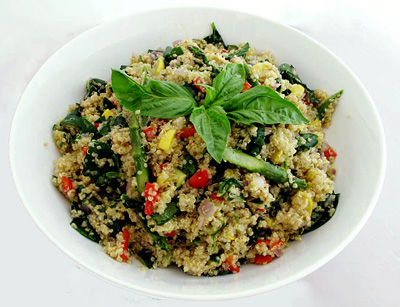 1. Preheat oven to 400°F. Line a large baking sheet with aluminum foil and spray lightly with canola oil.
2. In a large bowl, toss together the asparagus, zucchini, yellow squash, and onion. Sprinkle with garlic powder and canola oil and toss to coat. Season to taste with salt and pepper.
3. Spread the vegetables evenly over baking sheet and roast until softened but still firm, 10-12 minutes. Remove from oven and set aside to cool.
4. Meanwhile, whisk together the maple syrup, vinegar, mustard, basil, dill, and tarragon. Season to taste with salt and pepper and then slowly whisk in olive oil.
5. In a large bowl, toss the roasted vegetables with the quinoa, spinach and red peppers. Drizzle the vinaigrette over the salad, tossing to mix thoroughly. Cover the bowl and refrigerate for at least 12 hours before serving. The salad will keep for 2 to 3 days.
Serves 6-8
James Moore is a producer, publicist and freelance writer. When not traveling the world, he's home in Los Angeles, testing and photographing food to post on his blog Cook Like James