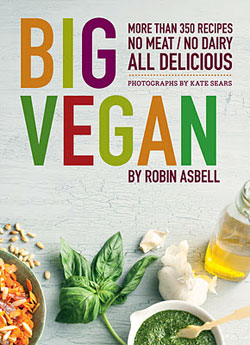 It was 1995, and I was in graduate school at Brown University. I was taking a gender studies course that claimed gender (male and female) is a social construct not a biological difference. I was a nice Italian girl who grew up in North Providence in an assertively pink bedroom. My head would throb every time I left this class.

One afternoon several of us gathered for a study session where a few of the students brought vegan snacks and refreshments. I was already a vegetarian, so I was excited about exploring vegan food. They served a disturbingly gray mock chicken salad, carrot and celery sticks, some sugar-free fruit juice cookies, and a funky smelling "revitalizing" tea. Never had I more intensely craved a Dunkin' Donuts hazelnut coffee and sesame seed bagel.

I chose the cookie. It looked good, all chunky and nicely browned. I took a bite. It was chalky and dry. I chewed and chewed. I tried to swallow, but I couldn't. It was glued to the roof of my mouth. I grabbed a cup of the revitalizing tea to try to wash it down. Nothing happened. I thought, I'm gonna choke to death at a study group eating a vegan cookie. Damned vegans.

Eventually I managed to swallow it. 16 years later, I've learned that vegan food can be delicious, and while I'm no longer a vegetarian, I still love eating vegetarian and vegan dishes. So I'm happy to add Robin Asbell's colorful new cookbook, Big Vegan, to my shelf.

Asbell has created 350 meat-free, dairy-free, 100% delicious vegan recipes which she organized into categories including Breakfast, Breads, Salads, Soups, Main Dishes, Desserts, and more.

Though Asbell states the benefits of adopting a vegan diet -- it's healthy, it doesn't harm animals, it leaves a smaller carbon footprint -- she isn't preachy. She advocates veganism more for its health benefits than for its political ideals.


Whether you're a veteran, newbie, or part-time vegan, Asbell's book will suit your needs. She covers all the basics of cooking vegan, including special ingredients to buy such as nutritional yeast, seitan, and soy and tips for successful vegan baking. She also includes a lengthy section on the nutritional components of a vegan diet.

Asbell's recipes are inspired. Who wouldn't want to wake up to an Almond-Apple-Date Breakfast Burrito or a bowl of Fruit-Sweetened Chai-Spiced Granola with Pecans? How about sitting down to a dinner of Harvest Vegetable Stew served in Mini Pumpkins or a dish of Corn and Cauliflower Stir-Fried Noodles with Peanuts?

Asbell pays homage to many global cuisines. From Greek Beet and Orange Salad and Tuscan Potato Gnocchi to Tibetan "Beef" Fried Noodles and Szechuan Eggplant with Peanuts, you'll find bright, tempting worldly flavors. Some ingredient lists are long, but most are short, and all recipe instructions are lucidly written and easy to follow.

The book's design reminds me of a Mollie Katzen book, clean, simple, and inviting. Kate Sears's photographs are beautiful; I only wish there were more of them.
I adore this zesty Mango Jicama Salad with Lime Dressing and Pepitas. It's a symphony of colors, textures, and flavors that leave you refreshed and satisfied.

Mango Jicama Salad with Lime Dressing and Pepitas
Makes 4 servings

8 ounces jicama
2 large mangoes, peeled
1 small red bell pepper, slivered
1/2 small red onion, thinly sliced
1 large jalapeno, chopped
1/2 cup freshly squeezed orange juice
2 tablespoons sugar
2 tablespoons extra-virgin olive oil
1/2 cup pumpkin seeds

1. Peel and thinly slice the jicama, then stack the slices and slice them into 1/2-inch sticks. Put them in a large bowl.

2. Slice the mango flesh across the grain and add it to the bowl, along with the bell pepper, onion, and jalapeno.

3. In a small bowl, whisk together the lime juice, sugar, and oil. Pour the dressing over the mango mixture.

4. In a small frying pan over high heat, dry-toast the pumpkin seeds, swirling and tossing them in the pan. When the seeds start popping and are toasted and fragrant, pour them onto a plate to cool slightly.

5. Serve the salad topped with the crunchy seeds.
Susan Russo is a free lance food writer in San Diego, California. She publishes stories, recipes, and photos on her cooking blog, <Food Blogga and is a regular contributor to NPR's <Kitchen Window. She is also the author of Recipes Every Man Should Know
and The Encyclopedia of Sandwiches
.