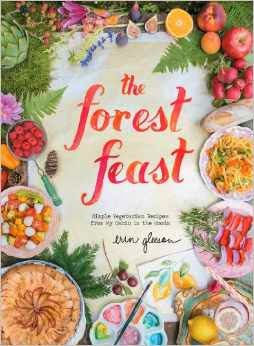 The reason cookbooks continue to sell when you can find plenty of recipes online is beautiful photos, illustrations and inventive recipes. The Forest Feast
has it all. The pretty and very visual format of recipes with tons of photos as well as pretty watercolor illustrations is easy to follow and ever so appealing. The vegetarian recipes are simple but also attractive, such as Strawberry Salsa, Nectarine and Tomato Salad, Corn & Cauliflower Tacos and Polenta Portobellos. There are also a handful of cocktails. Erin Gleason the blogger behind the stylish vegetarian blog The Forest Feast is self-taught and focuses on seasonal ingredients. Nothing too cheffy here. Easy, pretty and original, it's a great introduction to vegetarian cuisine for omnivores or newbie home cooks looking for inspiration for everything from family meals to cocktails and entertaining.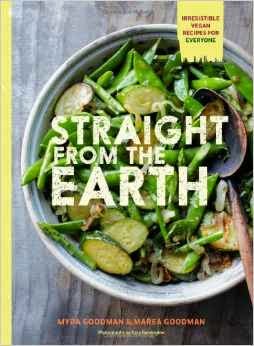 Vegan cookbooks are nothing new. But a vegan cookbook written by someone who is not only not a vegan but not a vegetarian? Well, that is something new. And frankly, welcome. Myra Goodman and her daughter Marea Goodman are worthy evangelists for eating organic produce, since Myra Goodman is one of the co-founders of Earthbound Farm. She has written some lovely cookbooks in the past, but Straight from the Earth
is particularly special. The recipes do not feature dishes that approximate meat, but rather celebrate vegetables, grains, fruit, beans and nuts. The photography is beautiful and recipes are very enticing. There is no attitude, thankfully, just creativity and genuinely appealing recipes like Grilled Fig Sandwiches with Pistachio Pesto and Balsamic Caramelized Onions or Wheat Berry, Baby Kale, Grape and Orange Salad. Some recipes require the best seasonal produce like Crostini with Vine-Ripened Tomatoes and White Bean Puree, but others use things you can easily find all year long such as Miso Roasted Eggplant.
The New Vegetarian Cooking for Everyone
is a doorstop of a book, with 665 pages and more recipes than you could cook in a lifetime. Deborah Madison has added 150 recipes and updated countless more to her classic volume. There's more emphasis on tempeh than tofu, which may or may not be a good thing, depending upon your taste. But the inclusion of ingredients like smoked paprika, curry leaves and farro is definitely good thing.
What I particularly like about the book is that it covers so many different cuisines, there are galettes, tagines, risotto, breakfast breads, hearty main dish salads and so much more. I've bookmarked Saffron Dumplings, Spicy Quinoa and Potato Croquettes and Braised Artichokes with Leeks and Peas. You will never again wonder what to cook for vegetarians with this book and the emphasis on deliciousness means omnivores will not get bored.
Amy Sherman is a San Francisco–based writer, recipe developer, restaurant reviewer and all around culinary enthusiast. She blogs for Epicurious , Bay Area Bites and Cooking with Amy .