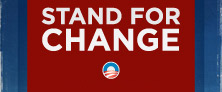 I'm sitting in Barack Obama's campaign office in Dover, New Hampshire. It is 3:30 in the afternoon on Monday, January 7; the day before New Hampshire's primary. Tomorrow, my typically humble state has the duty to be the first in the nation to choose by ballot its Democratic and Republican presidential nominees.
The campaign office is buzzing. I, along with most of the other volunteers, have just returned from our first shift of canvassing around our small town. I've been on foot (or tush, as I've fallen countless times on icy sidewalks) for four hours trying to convince local voters to vote for Senator Obama tomorrow. I'm exhausted and I'm hungry; however, my day is immediately brightened.
The spread on the buffet table is astounding: heavenly plates of fruit, the most delicious matzo ball soup (nearly better than my mother's), coffee from the local roaster, and impeccable sandwiches. Our lunch was entirely donated by families in and around the seacoast of New Hampshire. Oddly enough, nobody on the campaign staff asked for these donations.
Why am I talking about the food and not my candidate's foreign policy position? First off, the food donations reveal the undeniable congeniality of New Hampshirites. Second, this shows just how serious, concerned, and involved New Hampshire citizens are in times of political decision-making.
In arguably the most important election of our time, the people of New Hampshire have perhaps one of the most imperative obligations. We essentially decide who has the opportunity to run for president in the general election (and we're right more than we're wrong). New Hampshire knows that campaigning is not easy or fun. And of course, it can't be done on an empty stomach.

Lauren Melby
University of New Hampshire 2008