Spring & Easter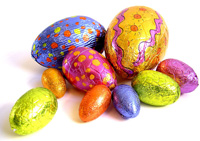 Despite my aversion to Christmas, I have always loved Easter. My experience of it was never religious, but purely secular. Growing up, Easter meant a celebration of Spring, egg hunts, fluffy bunnies and chicks, dyeing eggs with onion skins and flowers, and chocolate, chocolate, chocolate. For several years I got to work in a gourmet store in the weeks leading up to Easter. The only thing better than taking home broken chocolate Santas had to have been taking home broken chocolate bunnies.
My other favorite memories of Easter include the ones spent in Italy where I saw the spectacular exploding carriage ritual in Florence known as Lo Scoppio del Carro. Of course there was also food, including those lovely hollow Perugina eggs filled with toys and the traditional dove-shaped sweet bread called La Colomba.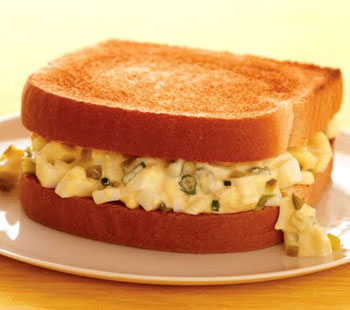 Looking for ways to use up Easter egg-hunt leftovers? Make an egg salad sandwich. Actually, make several egg salad sandwiches, one for each day this week, because today marks the start of National Egg Salad Week in the U.S. Yup. We love egg salad so much that we devote an entire week in its honor.

Our love for egg salad sandwiches runs deep, all the way to 1896. That's when one of the earliest printed recipes for a sandwich made with egg salad appeared in The Original Boston Cooking-School Cook Book, written by Fannie Merritt Farmer. Then with the introduction of sliced soft white bread in the 1930s, egg salad sandwiches became a brown-bag lunch staple as well as a common item at delis, diners, and cafeterias.

It's no surprise that the majority of egg salad sandwiches are eaten after Easter when many people are looking for tasty ways to use up Easter egg-hunt leftovers. While there are various ways to make egg salad, I favor grandma's fuss-free version: tangy, sweet, and creamy.