Lisa Dinsmore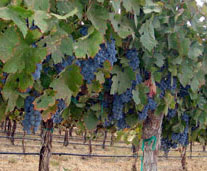 People are always asking me what I'm going to do with my wine education. Most of them assume I'm going to become a sommelier or a winemaker because those are the most well-known choices. In reality, neither is an option because both require more time and hard work than I'm willing to give to indulge my love of wine. I'd rather drink wine than serve it and with so many other people taking the trouble to make it, there's no reason I have to.

That being said, learning about the process, in limited doses, is quite fascinating to me. To that end, the founding members of the Studio City branch of the Friends of Cass Winery (an unofficial, nascent organization made up of me, my husband and our friend Sam) volunteered to help bottle their upcoming 2006 releases of Grenache and Mourvedre in the ever-growing Paso Robles area. We weren't sure what we were in for, except we knew it would be a bit of work and probably quite fun given the natures of the winery's owners.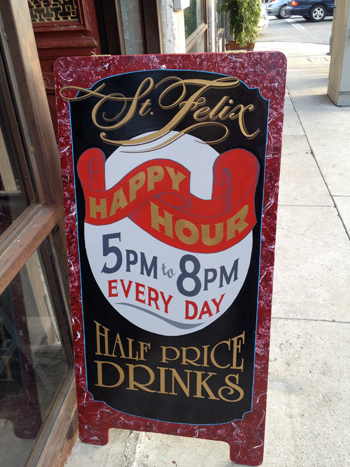 I don't know who invented the concept of Happy Hour and I really don't care. I'm sure it isn't necessarily a good thing that it's my favorite time of day, but I just can't think about those two words together without smiling. They conjure up images of meeting friends at the day's end but before the night closes in to share your latest news and perhaps a few troubles over a quick glass of something heady and a few indulgent nibbles. Since I live via my own "Cinderella Theory" – that nothing good happens after Midnight outside the home – I like to start when the night is young and trouble isn't even a glimpse on the horizon. It's also the time when most restaurants are fairly empty and the music is low enough you can actually hear your companions. Plus, you get your drinks and food at half price. A win-win-win.

My latest Happy find took a bit of work, but was well worth the search. We had an event at the Pantages Theater and were going to take the Metro to Hollywood to avoid the post-work traffic snarl. While this area is filled with bars, it was harder to find a decent pre-screening drink than I anticipated. Sure there was going to be a post-party but eating at 9:30pm is just not an option for us. We are Early Bird people all the way, preparing for our old age three decades in advance. I was initially intrigued by both Wood & Vine (they had the best wine list) and Blue Palms Brewhouse (can you say Truffle Burger?) because they wouldn't require much walking; however, neither of them opened until 6pm. A problem. I guess Wood & Vine has a Happy Hour but it's from 10pm-2am. Not gonna happen due to the rule stated above.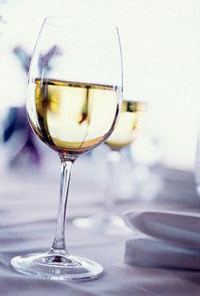 After about a decade of studying and drinking wine, I've become the de facto "expert" amongst our group of friends. Which is to say I've read more wine books, taken more classes and wine tasted in more regions than them, but what I've learned is just the tip of the wine iceberg. That being said, since I have this website, I get asked a lot of questions about wine, but there are two that always seem to come up with the answers usually engendering surprise.

1) What are my favorite Napa wineries?
and
2) Do you really LOVE white wine? Really?
My response that I don't make a pilgrimage to Napa several times a year is akin to saying something like "I hate puppies." The shocked looks are quite amusing to me. I've been all over California, tasting in every region where wine is grown, including Napa, yet there are just other places I'd rather go. I've come up with an equation that should explain this apparent break down in my mental faculties.
(Too far away x snotty attitude + $$$$ bottle price = Unhappy Wine Traveler)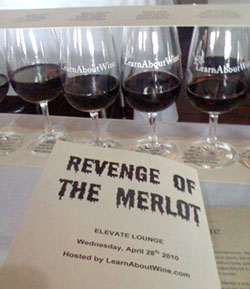 You never forget your first love...and mine was Merlot. Up to that sip of Chilean juice all my encounters with red wine brought mouthfuls of tannic unhappiness. I had no idea red wine could taste so smooth and juicy and, yes, fruity. I remember seeking it out and buying versions from Mill Creek, Lambert Bridge and Chateau Souverain on my first trip to Sonoma. And then, overexposure hit, causing many wineries to plant Merlot where they shouldn't – just to make a quick buck – and the lack of quality made many wine lovers, like me, desert the variety and move on to other grapes. It doesn't take many mediocre versions to turn people off, especially when you're paying good money for the pleasure.
This decline happened long before Sideways. The movie just brought the problem to a national audience. Miles' cry "I'm not drinking any f**king Merlot!", while funny, was all too true for many of us everyday drinkers. This once luscious grape was ruined by rampant commercialization, which was sad for drinkers, but had to be horrifying to the wineries who considered this a flagship variety. Lucky for us the ones in it for the long haul, held on and concentrated their efforts into making wines that would turn around Merlot's maligned reputation. Or so I've heard.
I got the opportunity to see whether they succeeded at Learn About Wines "Revenge of The Merlot" tasting. While clearly devised by the wineries participating to get people talking about and tasting merlot again, it was interesting to actually hear first hand the effects, if any, they had experienced since Sideways supposedly put the nail in Merlot's coffin.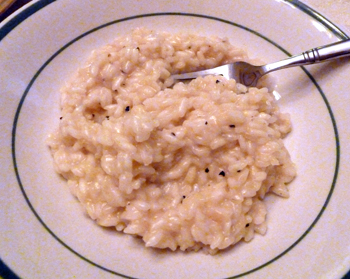 I LOVE risotto. It's one of the many things I had never eaten before I moved to California. Never even heard of it in my two decades of growing up in Western Massachusetts. I know that seems hard to believe, but I made my parents risotto when they came out to visit 5 years ago and they had no idea what it was. Seriously. Italian food growing up was lasagna, pasta with red sauce or pizza. I can't remember the first risotto I ever ate, but I know I was instantly hooked because it's the dish I always order whenever I see it on the menu...or hear it as the special. I just can't help myself. I love the creamy, chewy consistency of it, the homeyness, the endless possibilities. It's a dish I make at least 3-4 times a month, as it's fairly simple and hard to screw up. Or so I thought. Apparently, I've been serving it all wrong.

I got a hint of my wrongdoing when I watched a recent Top Chef All-Star show and Tre, one of the chef/contestants, got lambasted by Tom Colicchio and Anthony Bourdain, two of the judges, for making risotto that was too thick and sticky. Apparently, it's supposed to be more fluid and al dente, spreading out to cover the plate without any help – like a wave. He offended their risotto sensibilities and was sent home. It got me thinking. Clearly I had rarely eaten a "proper" risotto and never, in all my delicious attempts, ever made one either. Apparently, I was making an Italian rice bowl. I had to do better. And that's where another All-Star contestant comes in.