Lisa Dinsmore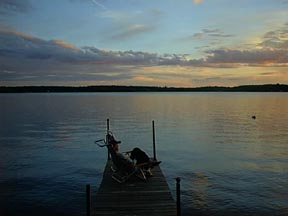 Every other year for the past 10 years my husband and I make the long and arduous trip from Los Angeles to Bangor, Maine for a week's vacation at his family's camp on Lake Pushaw. There's nothing like relaxing on the dock with a nice glass of wine and listening to the Red Sox games on the radio. Usually we have to stop in New Hampshire or Massachusetts to get anything remotely drinkable because, in past years, the wines found in the grocery store were for emergency use only.
Always on the lookout for wine shops with a wide selection and affordable prices – it's my not-so-secret obsession – I noticed a listing for the Bangor Wine & Cheese Co. on the Bangor city website and was intrigued. I still stocked up in MA before we left, because we couldn't be left high and dry. A week is a long time without good wine.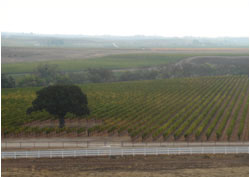 It's all my fault. I've been telling people for almost a decade about this lovely wine region in the middle of California. Most of them had no idea where Paso Robles is – halfway between Los Angeles and San Francisco – and had never heard of any of the wineries that call this region home. Until the last 3-4 years I couldn't really blame them. Even though some people have been successfully making wonderful wine here for over 3 decades, their efforts rarely reached beyond the county's borders.
Unless you made the trip, you'd have no idea what you were missing…and you are missing some of the best Bang-for-the-Buck wines being made in California. With the upswing in popularity of the Rhone varietals (especially Syrah, which grows very well in Paso) the region is starting to make a real name for itself. Is this a good thing? For the over 100 wineries trying to make a living, sure, For me, I just don't know.
Golf is a lot of walking, broken up by disappointment and bad arithmetic. ~Author Unknown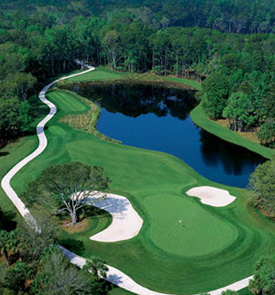 I wanted to enjoy golfing, I really did. My husband Dave loves the game and even though I'm not overly athletic I decided to give it a try so we'd have something fun to do on vacation. I showed promise, but my competitive nature overrode my potential, creating a seething, bitter, sullen monster on the course. I tried to laugh it off, to have positive "swing thoughts", to just enjoy the amazing natural settings I found myself in, but in the end, my failure to coax that little ball into the cup– in less than the maximum strokes allowed – got the better of me. I now know how the men he plays with every week feel.

You see, my husband's regular partner is a ringer, i.e. someone who's unexpectedly better at a sport than they first appear and brought in to help a team win. They were past co-workers who discovered they both love to play, are able to accept the state of their games and don't mind getting up before dawn to make their tee time (something I refused to do). The fact that his partner is a woman doesn't bother him one bit. He's practically alone on that count.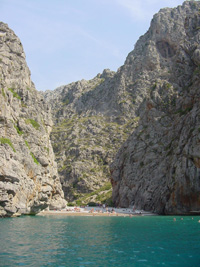 One of the best things about Europeans is when they invite you to come visit them, they actually mean it. When a co-worker of my husband's found out we were journeying across the pond, they not only let us stay in their London flat, they insisted we come stay with them at their house in Deia, Mallorca. I initially didn't want to intrude, but once I saw pictures of this beautiful Mediterranean island, I changed my mind.

Since this visit was off the original itinerary, I choose places I wanted to go by looking at the local postcards. One of our first stops was Sa Calobra. My husband and I aren't exactly sun-worshippers, but this beach locked between mountain cliffs was a sight I had to see.
With directions from our hosts, Lanny and Shelly, which included a description about the road to get there and all the tourists we would find at the end of it, we set off. Not needing to see this natural wonder yet again, they agreed to meet us later for lunch.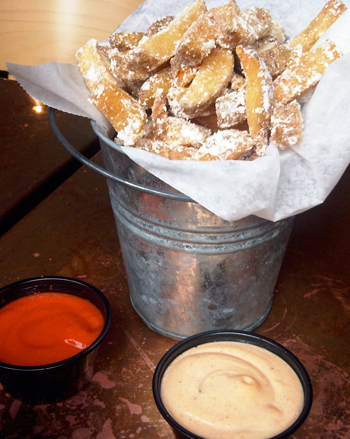 I can't believe I'm actually writing this. Man, does time fly. While 2009 was the year I expanded my food palate, I'd have to say my most memorable bites of the last year were ones that put a twist on old favorites...making me appreciate them again in a whole new way. Some are fancy, but most were just damn good, simple comfort food that let the best ingredients speak for themselves. Just looking at the photos I can still taste them all....and want them all over again.
Bacon Dusted Fries from Nosh Kitchen + Bar – Portland, Maine

Yes, I am serious. These were the most memorable things I put in my mouth all year. Why? Because who doesn't love French Fries and yet, this version took them to a whole different level. We decided to share the bucket since we were each eating a sandwich as well, but the minute I put one in my mouth I wanted to bogart the whole thing. Or order another round. We restrained ourselves, but just barely. I don't know how they make bacon dust (it looked like powdered sugar), but I applaud whatever process brought it into the world. I never thought French Fries could be improved upon, but I was wrong.