Lisa Dinsmore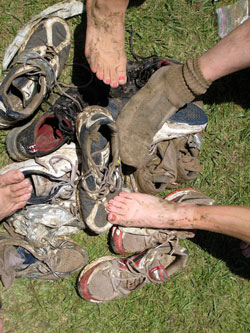 It's all Stacy B's fault. I hate exercise. I'm not a runner. Yet somehow I found myself wrapped up in her enthusiasm for extreme sporting events and agreed to run my first 10k. Though not just your, run-of-the-mill road race, but the annual Camp Pendleton Marine Corp Mud Run. A 6.3 mile race where I would be constantly wet, covered in mud and guaranteed to come away from the experience scraped and bruised like a week-old tomato that fell off the truck. Did I mention that I also detest being wet? Perhaps I was a cat in a past life. Of course, if I was, hoisting myself over those 5-foot walls should have been a whole lot easier.

My generally philosophy with life is if you're going to do something you don't enjoy at least make it as interesting as possible. When I attempted to learn how to play golf, I always chose to play on courses that were, at the very least, visually stunning. No wide-open, flat, burned-out, public courses for me. That way I could distract myself with the natural beauty of my surroundings (the ocean, mountains or grapevines) instead of focusing my white-hot, internal rage on the tiny, unruly white ball that failed to do my bidding. Which is how I came to the Mud Run. No boring, flat, road race was going to do. Give me an obstacle course filled with walls, rivers, a lake, crawling through tubes and under fences.
In over four decades on this planet, I've eaten an uncountable amount of food – some good, some bad, most forgettable. It was something I used for ballast and to curb my hunger. Occasionally, it paired just perfectly with my wine choice – which I always spend more time thinking about – making me more aware of what I was chewing and wishful that that culinary cohesion happened more often.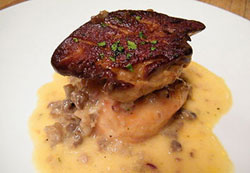 Tired of eating my usuals and looking to raise my food bar, last year I decided to try everything that came my way, to open my palate to new experiences regardless of my past encounters...and what I found was almost magical. In the right hands, food, even simple food, could be (and was) extraordinary, more than the sum of its parts. Like great wine, it caused my mind to go numb with pleasure, as my tastebuds were bombarded with culinary perfection, with flavors and textures previously unimagined.
While I didn't love every item I took a chance on, some of my newfound choices brought delicious delights I know I will never forget and changed the way I thought about food. After eating the following things, you should have seen the look on my face.
Foie Gras Biscuit with Maple Sausage Gravy at Animal in Los Angeles: Seriously, the most surprisingly delicious thing I have ever eaten. It was my first introduction to foie gras (until this past fall an item I avoided like the plague) and it was mind-boggling. My expression made our friends burst out laughing, reaching for their cameras to capture the moment. I can still taste it (in a good way). Sweet, savory, yeasty, rich, meaty goodness that just melted in my mouth. This is a "last meal" dish, I will be returning for as soon as possible.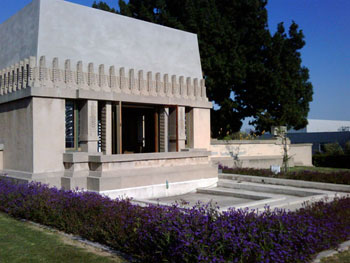 Los Angeles has been at the cutting edge of architecture since the beginning of the 20th century (Stiles O. Clements, Frank Gehry, Frank Lloyd Wright, Neutra), but the city and its residents haven't always appreciated the landmarks that contribute to its varied landscape. As a self-proclaimed history buff, I am ashamed that I have failed to get to know my adopted city better. Not many transplants do. Maybe the constant sunshine– or the lure of Hollywood – blinds us to the treasures to be found around every corner.
One of my recent finds was the Hollyhock House, one of four homes the prolific and infamous Frank Lloyd Wright constructed in the 1920s, using modular concrete blocks as the main form of construction. I've known of the existence of these structures– which also include the Ennis-Brown House, the Storer House (once owned by producer Joel Silver) and the Freeman House (owned by USC)– for quite some time and you'd think, since the Man and I are "fans" of Mr. Wright's work, we'd have made some effort to get a look at them over the years. We've been to his studio in Oak Park, Chicago and I've taken the tour at Taliesen West in Scottsdale, AZ (the Man golfed instead) and yet we failed to take advantage of his works in our own backyard.