Lisa Dinsmore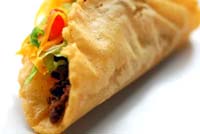 After growing up in Western Massachusetts, it didn't take me long to become spoiled living in Los Angeles. Not only do we constantly have fresh produce from around the world, but delicacies from every nation are well-represented. Mexican food didn't reach my hometown until I was in college and even then it was either Chi-Chi's or Taco Bell, neither of which is very authentic or culinary genius.
Regardless of quality, the food was something completely new and I was immediately hooked on guacamole, chips, salsa and greasy crispy tacos. Once I landed here – and got a taste of the real thing – there was no stopping my cravings for all things "South of the Border." L.A. is the crossroads of the world when it comes to food and I never realized how lucky I was to live here until I went to Europe for a month.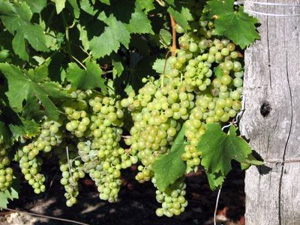 You heard me. This wine, which is made from the muscat grape in a frizzante-style (mildly bubbly) in the Piedmont region of Italy, is one you should get to know. Even though I drink a lot of wine – from sparkling to port – it's easy to forget about Moscato. Mostly because I don't often get the opportunity to drink it. I'm the only person I know who loves dessert wine, so it's hard to justify opening a bottle to drink all by myself. I have, it's just not something one should make a habit of. Usually I have to quench my cravings for this delicate, fizzy confection when I'm out to dinner. While everyone else digs into the chocolate cake or bread pudding, I satisfy my sweet tooth by sipping. All the pleasure, none of the fat.

Yes, muscat grapes make super-ripe, overtly-fruity, wildly-perfumed wines, but that's why they are so good with dessert. This family of grapes is grown all over the world and is one of the oldest recorded varietals, yet it fails to get any respect. Sure there are bad versions out there, but that's true with every grape. What I fail to understand is the complaints that it's too sweet…even versions that are fermented dry. A criticism I find fairly hollow coming from the mouths of people who drink soda, juice and sugar-laden caramel frappuccinos.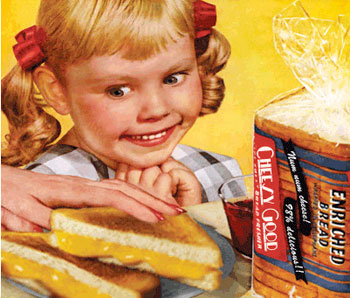 My favorite sandwich as a child was a Grilled Cheese. It still is today. I'm continually amazed at how something so basic – bread and cheese – becomes something so sublime. I think I could eat one everyday and never get tired of it. Especially considering all the bread and cheese choices out there. It boggles the mind and whets my appetite. Want something more substantial add a little ham to it. Now, it's a real meal and even more delightful.

Until two years ago, I never imagined this classic pairing could be improved upon. And certainly not with something so ordinary as an egg. Sometimes food takes you by surprise, though I find this happening less and less as I get older. I was wary of ordering my favorite sandwich, with a fried egg on top– a concoction that was called a Croque Madame – but I was trying to branch out and it was my birthday, so I figured what the hell.
This classic French sandwich, usually made with Gruyere and smoked ham, also includes a healthy dose of Mornay (cheese) sauce, so I figured if I didn't like the egg, I could just scrape that off and enjoy the rest. There's almost nothing cheese sauce can't fix. I'm generally a scrambled egg-type of gal, so the sight of the bright, yellow yolk oozing all over my bready, cheesy goodness gave me a moment's pause, but once I dove in my palate was changed forever. The egg took the experience to a whole other level I didn't think possible – it actually improved the best sandwich in the world.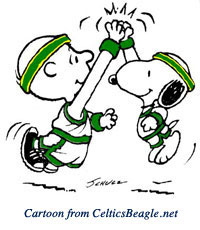 With the NBA Finals over (Yeah Celtics!), the Stanley Cup won, March Madness completed and the race for the Triple Crown decided, we can finally relax because the demon (a.k.a. the Super Sports Freak) has subsided…at least for now. Summer is upon us and the only sport we need to worry about is baseball and no one really cares about the outcome of these games until Labor Day. Well, except my husband…and millions of other men around the world.

I had no idea what I was getting into when I married a sports fanatic. When we were dating it didn't really seem important. Then when we moved in together, I realized that if I wanted to spend any quality time with The Man, I better get interested in the game. Any game. I initially picked basketball because it seemed to have the least amount of rules and was over quickly. Of course, my skill at retaining useless knowledge and obnoxious competitive streak soon had me winning the office pool for March Madness and using my husband's vast love for the game to help me pick the right players for my Fantasy Basketball Team, which I also won. The men in the pool, i.e. everyone else, were not amused.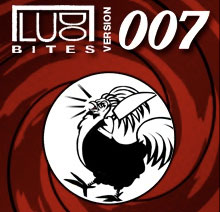 Though I am not a foodie, I like watching chefs on TV. They are the new "rock stars" and their antics are often equal amounts amusing, terrible and inspirational (in the kitchen, that is). It's hard to imagine a city's food lovers more connected to a chef than Los Angeles is to Ludo Lefebvre. Trying to get a reservation to his tri-annual, 6-week pop-up restaurant is harder than getting VIP passes backstage to U2. (I'm guessing, but I don't think I'm far off.) When out dining in LA, the conversation, if you're with passionate diners, inevitably turns to the hottest local chefs and eventually to LudoBites - how many you've been to (3), which incarnations (3.0, 4.0 and 6.0) and how much time/how many computers you had running trying to get one of the elusive reservations on OpenTable…before it crashed for those trying to get into 5.0 and 6.0. This last time for 007 (back downtown at Gram & Papas), it went off without a hitch – that is if you got into the system in the first 2 minutes, which by the grace of God my Man did.
It's probably unfathomable to those living outside our city – which is known for its over-hyping everything (see Carmageddon) – why people are so rabid to get into LudoBites. For all the great press he receives from local bloggers and a certain section of the food press, there's equal derision by more traditional outlets that seem to feel that if he is such a great chef he should have his own restaurant. That the "pop-up" thing is just a ploy to make him famous for fame's sake instead of for the quality and creativity of his food. All I can say to that is he's been cooking since he was 14 (he's currently 39) in some of the best French restaurants in the world, so the man has skills. Whether you like how he constructs his plates and flavors, well that's up to you.