Here is a recipe from Simply Truffles
that makes me happy 'simply' thinking of it: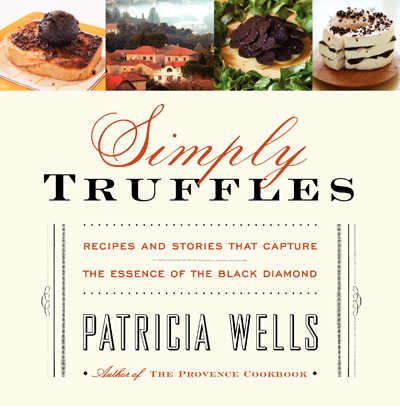 Ingredients:
3 tablespoons Coarse sea salt
1 lb. Italian trenne pasta or penne pasta
3 cups reduced Jerusalem Artichoke Soup (see below)
1 cup freshly grated Parmigiano-Reggiano cheese, plus more for serving.
1/4 cup minced fresh black truffles or minced truffle peelings Truffle salt
Jerusalem Artichoke Soup
2 qts. Whole milk
2 teaspoons Fine sea salt
2 lbs Jerusalem artichokes (sunchokes) scrubbed and trimmed
2 tablespoons Minced fresh black truffles or minced truffle peelings or 1 tablespoon best-quality hazelnut oil.
1. Rinse a large saucepan with water, leaving a bit of water in the pan. (This will prevent the milk from scorching and sticking to the pan.)
2. Peel the Jerusalem atichokes, chop the coarsely and immediately drop them into the milk. (This will stop the vegetables from turning brown as it is exposed to the air.) When all the Jerusalem artichokes are in the pan, place it over a moderate heat and simmer gently until soft, 35-40 minutes. Watch carefully so the milk does not overflow the pan.
3. Transfer the mixture in small batches to the blender or food processor, or the insert in the top of the blender , or the heat will create a vacuum and the liquid will splatter. Puree until the mixture is perfectly smooth and silky, 1-2 minutes.
4. Return the soup to the saucepan and reheat gently. Taste for seasoning. Pour into warmed soup bowls and shower with minced truffle or drizzle with the hazelnut oil.
For our Trenne Pasta recipe, be sure to hold enough to end up with 3 cups reduced soup.)
Preparation: 1. Fill the pasta pot with 8 quarts of water and bring it to a rolling boil over high heat. Add the course salt and the pasta. Cook until tender but firm to bite. Drain thoroughly.
2. While the pasta is cooking, warm the reduced soup.
3. Transfer the pasta to a large bowl and add the reduced soup, the cheese, and half the minced truffles. Toss to coat the pasta evenly and thoroughly. Season lightly with truffle salt. Transfer to warm bowls, shower with the remaining truffles and serve, passing the additional cheese.
- Recipe courtesy of Nancy Ellison