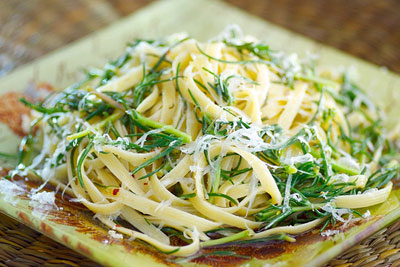 Makes 2 large or 4 small servings
If you can't find agretti, then your best substitutes would be either purslane or dandelion greens.
1 1/2 tablespoons olive oil
3 garlic cloves, thinly sliced
1 bunch agretti, chopped, with tough stems removed (about 2 1/2 packed cups)
The zest and juice of 1 lemon
8 ounces (1/2 pound) fettuccine, or other noodle
1/2 cup grated Parmesan or Pecorino cheese, plus extra for garnish
Extra virgin olive oil for drizzling
1. To prepare the agretti, cut off the bottoms of any thick stalks. Rinse well under running water and pat dry. Using a sharp knife, chop into small pieces.
2. In a large skillet over medium-low heat, warm olive oil. Add garlic slices and cook until golden brown and fragrant. Remove garlic from the pan and discard. Add the agretti, and cook about 5 minutes until wilted yet still firm.
3. Meanwhile, in a deep, heavy pot, cook pasta in salted water according to directions, until al dente. Drain and add to the skillet with the agretti. Add the lemon zest and juice and toss. Divide among plates; drizzle with extra virgin olive oil and sprinkle with a little cheese. Serve immediately.
- Recipe courtesy of Susan Russo