Gnocchi with Farmers Market Fresh Vegetables
For best results, cook the gnocchi just before serving. Most yellow or white potatoes seem to work. I have used Yukon gold, fingerling and butterballs, all to good result.
Save the peels to make stock or sauté in butter with ham, onions and parsley as a side for breakfast eggs.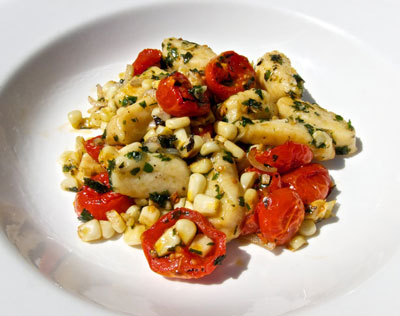 Serves 4
Ingredients
1½ pounds potatoes, washed
1 egg
1 cup + 1 tablespoon white flour
1 cup cherry tomatoes, washed, cut in half
1/4 cup Italian parsley, leaves only, roughly chopped
1 garlic clove, peeled, finely chopped
2 shallots, washed, peeled, ends removed, roughly chopped
1 cup corn kernels, washed
2 tablespoons olive oil
1 teaspoon sea salt
1/2 teaspoon freshly ground black pepper
2 cups freshly grated Parmesan cheese
Directions
1. Coat the cherry tomatoes in olive oil, seasoned with sea salt and pepper. Place the tomatoes cut side up on a baking sheet lined with Silpat or non-stick parchment paper. Bake in a 350°F oven for 30 minutes. Remove and set aside.
2. Bring to a boil one gallon of water with 1 tablespoon kosher salt. Add the unpeeled potatoes. Cook uncovered 45 minutes or until the potatoes have softened enough that a paring knife enters them easily. Drain and let cool to the touch.
Using a pairing knife, peel the potatoes, reserving the skins for later use. Remove and discard any discolored parts.
4. Pass the cooked potatoes through a food mill fitted with a disk with large holes, accumulating the softened potato on a large cutting board.
5. Make a volcano shape, placing the raw egg in the middle of the potatoes. Dust with 1 cup of the flour and stir well with a fork. Use your hands to complete the dough, gently rolling the mixture until all the flour is incorporated.
6. Divide the dough into 3 balls. Sprinkle the cutting board with the remaining flour to prevent sticking. Roll out each of the balls into the shape of a long dowel about ¾" in diameter.
7. Bring a gallon of water with 1 tablespoon kosher salt to a gentle boil.
8. Fill a large bowl with 8 cups of ice cubes and as much water. Set aside.
9. Using a knife or a dough scraper, cut the dough into ½" lengths. Drop a dozen gnocchi at a time into the gently boiling water. When the gnocchi float to the surface, use a slotted spoon, small wire mesh strainer or Asian wire skimmer to quickly transfer them to the bowl of ice water.
10. Continue until all the gnocchi are cooked and resting in the ice bath. Drain the gnocchi and toss with olive oil. Use immediately or place in a sealed container and refrigerate until ready to use.
11. In a large frying or chef's pan, sauté the garlic, parsley, shallots and corn kernels until lightly browned. Add the roasted cherry tomatoes and cooked gnocchi. Being careful not to damage the gnocchi, gently incorporate the gnocchi with the sauce using a silicone spatula. Taste and adjust seasoning with sea salt and pepper.
12. Serve immediately with freshly grated Parmesan cheese.
David Latt is an Emmy-award winning television producer who turns to cooking to alleviate stress. He shares his experiences with food and his favorite recipes on his blog Men Who Like To Cook.