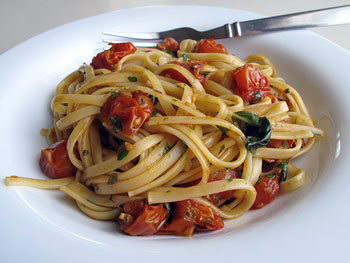 2 pounds cherry tomatoes
1/4 cup olive oil
2 tablespoons balsamic vinegar
4 garlic cloves, minced
coarse sea salt
freshly ground black pepper
1/2 teaspoon crushed red pepper flakes
1/4 cup chopped fresh oregano
1/4 cup chopped fresh parsley
1/4 cup torn basil leaves
1 pound linguine
Preheat oven to 375 degrees F. In a 9-by-13-inch glass baking dish, combine tomatoes, garlic, oil, vinegar, and crushed red pepper flakes. Season with salt and pepper. Roast tomatoes until tender, juicy, and skins have popped, about 40 to 50 minutes.
Cook linguine according to package directions in a large pot of liberally salted water until al dente. Drain and return to pot. Add tomato mixture, oregano, parsley, and basil. Toss together and serve immediately. Yield: 4 servings.
Alsopublished ongastronomersguide.com