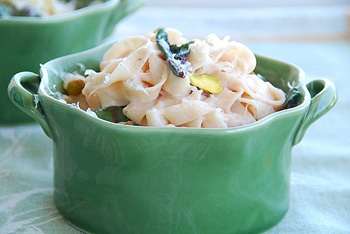 Serves 4

1 tablespoon plus 1 teaspoon olive oil
6 cups washed and sliced beet greens

1/2 pound fettucine (or other noodle)

1/2 cup heavy cream or half n' half
4 ounces goat cheese
1/4 teaspoon fresh thyme
salt and freshly ground black pepper, to taste
2 tablespoons pistachios
1/2 cup grated Parmesan or Asiago cheese

To prepare the beet greens, cut off the thick stalks. Submerge greens in a large bowl of cool water to remove dirt. Drain, rinse thoroughly, and pat dry. Remove any tough inner stalks of the beet green leaves, then slice cross-wise into thin strips. Set aside.

In a deep, heavy pot, cook pasta in salted water according to directions, preferably al dente. If using fresh, it should cook within 3-5 minutes.

In a large skillet, warm olive oil over medium heat. Add sliced beet greens, until wilted, about 2-3 minutes. In a small bowl, whisk the cream and goat cheese until well blended. Add to the skillet, and reduce heat to medium-low. Cook for 3-4 minutes, or until sauce begins to thicken slightly. Add fresh thyme, and season with salt and pepper. Add the cooked pasta to the skillet and toss until well coated. Divide among two plates; top with pistachios and extra grated cheese. Serve immediately.
- Also published on FoodBlogga.