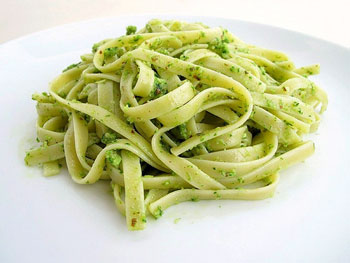 Tip: Choose ramps that are small and tender. Their flavor will be milder in this recipe, which uses them raw. Any nuts will work in this recipe, but I like almonds for their mellow flavor.

1 pound fettuccine
20 whole ramps, coarsely chopped
1/4 cup raw almonds, toasted in a dry pan
1/2 cup shredded Parmesan
2 teaspoons fine sea salt
1/2 cup olive oil

Cook fettuccine according to package directions in liberally salted water until al dente.

Meanwhile, combine ramps, almonds, cheese, and salt in the bowl of a food processor. Pulse until finely ground. Stream in oil and process until smooth paste forms.

Drain pasta. Return to pot and stir in pesto. Serve immediately. Yield: 4 servings.
- Recipe courtesy of Joseph Erdos