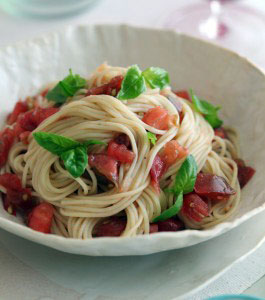 Gourmet July 2006
I've never met Ian Knauer from Gourmet but if I did I'd want to shake his hand or give him a hug for this recipe. It's summer in a bowl. I've found that this is a great recipe for tomatoes that are a bit too ripe or for tomatoes of irregular size that cannot be sliced well for salads or caprese. And remember, angel hair is a must in this dish as anything thicker becomes too heavy since the sauce is raw.
1 small garlic clove
3 lb tomatoes (ripe, please!)
2 tablespoons fresh lemon juice
1 teaspoon sea salt
1 teaspoon sugar (optional)
1/2 teaspoon freshly cracked black pepper
1 lb dried capellini
1/2 cup chopped fresh basil
extra virgin olive oil for dressing
Mince the garlic and mash it into a paste using a pinch of salt.
Core and roughly chop two thirds of the tomatoes. Halve the remaining tomatoes crosswise then rub the cut sides of the tomatoes against the large holes of a box grater. Remember to use the largest holes possible. Grate into a large bowl, reserving pulp and discarding the skin. Toss the pulp with the chopped tomatoes, garlic and salt paste, lemon juice, salt, sugar (optional) and black pepper. Let stand until ready to use, at least 10 minutes.
While the tomato sauce is standing, cook your pasta in boiling salted water, uncovered until al dente, 2 minutes or so. Drain in a colander and immediately add to tomato mixture, tossing well to combine, Sprinkle with basil and drizzle with olive oil and a sprinkling of salt before serving.
-- Also published on MattBites.com