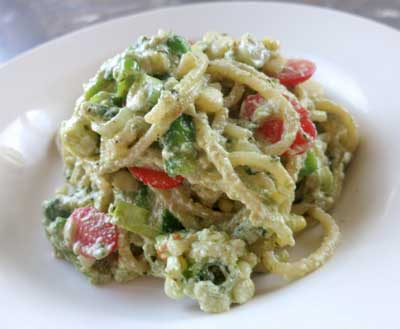 Ingredients:
In the Bowl:
1 cup ricotta
5 baby tomatoes cut in half
1 green onion trimmed and cut into thin slices, use green part
2 tablespoons prepared pesto
Salt and Pepper to taste
2-3 tbsp pasta cooking water
With the Pasta in the Cooking Water:
1 ear corn shucked
4 baby zucchini trimmed and cut in half horizontally OR
1/2 zucchini cut into thin slices
flowers attached to baby zucchini (optional)
200 gms spaghetti enough pasta for 2 people
grated parmesan or pecorino for garnish (optional)
Instructions:
Making the Sauce:
Put the ricotta, pesto, tomatoes, green onion in a bowl. Once the pasta is cooking, take a couple tablespoons of the cooking water and put it in the bowl. Stir the ricotta and other ingredients briefly to allow the water to loosen the ricotta. If you feel it needs a bit more loosening add more pasta cooking water 1 tbsp at a time. Do not let it get too watery. You want the ricotta to act as a sauce to coat the pasta.
Cooking Pasta and Veg:
Bring water to a rolling boil. Add salt to taste. Add pasta and give a stir. Stir again after 3 minutes to prevent sticking. When pasta is half cooked add the corn, zucchini and zucchini flowers if using. Cook until pasta is al dente. Before you drain it make sure you added the pasta water to the ricotta mixture to loosen it. Drain pasta in colander or sieve and put into bowl with ricotta mixture. Use tongs or two forks to toss pasta well in sauce. Serve immediately. Pass the parmesan or pecorino if desired.
- Recipe courtesy of Evan Kleiman http://www.evankleiman.com/