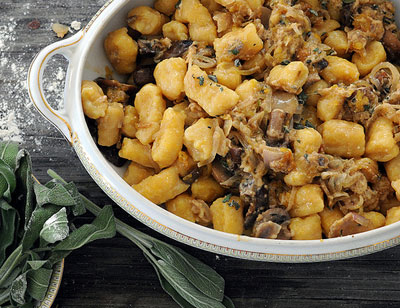 Adapted version of a Martha Stewart Show recipe aired in 2008
You will need:
1 small sugar pumpkin - halved and seeded
2 cups of unbleached or whole wheat flour , plus more for work surface
coarse salt
1 1/4 cups grated Parmigiano Reggiano cheese, plus extra for serving
1/2 cup ghee or unsalted butter
2 shallots, finely chopped
20 medium baby bella mushrooms, sliced
8 fresh sage leaves, coarsely chopped
1 cup chicken or turkey stock
1/2 cup cream or raw milk
Preheat oven to 400 degrees. Place pumpkin halves, cut side up, in a baking dish and fill each half with 1 tablespoon of water. Cover with foil and roast until soft - about 45 minutes. Rest to cool, then scrape pumkin flesh from skin.Mound flour and add 1 tablspoon of salt.
Using a fork, mix and make a well in the center of the flour. Add 2 cups of pumpkin and 1 cup grated cheese to the well. Slowly mix flour into the well. Knead mixture until smooth.
Divide dough into six pieces. Roll each piece of dough into 1 inch diameter and cut the dough strips into 1/2 inch long pieces. Using your thumb and index finger, roll the gnocchi pieces across the tip of a fork to create an imprint. This imprint will help to capture flavor in the ridges.
Boil 6 quarts of salted water and add gnocchi until they rise to the top -approx 4 minutes. Remove from water with a slotted spoon and transfer to serving dish. Meanwhile, heat a large skillet over high heat and sautee butter/ghee and shallots.
Reduce heat to medium and add mushrooms and sage. Add 1/4 cup pumpkin, stock, cream/milk and 1/4 cup grated cheese. Stir continuosly for 30 seconds. Top serving dish with the mixture and lightly toss - serve immediately with fresh grated parmesan.
Serves 4
- Recipe courtesy of Megan Martin