This is a great spring time recipe that works well as a first course or a side dish. I love the sweet flavor of English peas, but frozen ones will work fine. You can easily substitute asparagus for the peas. Just snap the ends off 1 pound of thin asparagus and cut the spears on the bias into 1/2" lengths. Stir them into the risotto in Step 4 after the broth has absorbed for 5 mintues.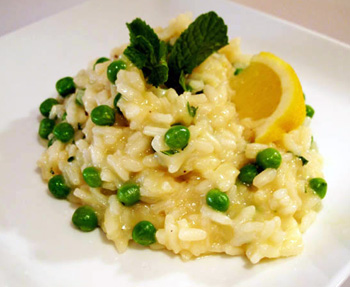 4 cups homemade or low-sodium chicken broth
2½ cups water
4 tablespoons unsalted butter
1 medium onion, finely chopped
Salt
2 cups Arborio rice
1 cup dry white wine, like a Sauvignon Blanc
2 cups English peas, shelled (about 12 ounces) or frozen petite peas
2 ounces Parmigiano cheese, grated (1 cup)
3tablespoons minced fresh mint
1 teaspoon grated lemon zest
2 tablespoons of fresh lemon juice
Ground black pepper

Bring the broth and water to a simmer in a medium saucepan over medium-high heat. Cover and keep the broth warm over the low heat.
Melt the butter in a large saucepan over medium heat. Add the onion and 1/2 teaspoon salt and cook until lightly browned, about 9 minutes. Stir in the rice and cook until the edges begin to turn translucent, about 3 minutes. Add the wine and cook, stirring frequently, until it is completely absorbed, about 2 minutes.
Add 3 cups of the warm broth mixture and bring to a simmer. Cook, stirring occasionally, about every 3 minutes, until the liquid is absorbed, about 10-12 minutes. Continue to cook, stirring in roughly 1/2 cup of the broth every few minutes, until the rice is cooked through but is still somewhat firm in the center, about 9-10 minutes.
Add the peas and another 1/2 cup broth. Continue to simmer and stir until the peas are just cooked and the rice is just tender to the tooth, another 3 to 4 min. Stir in another splash of broth if the risotto is too thick. Remove the pot from the heat and stir in the mint, lemon juice, lemon zest, and the Parmigiano. Season with salt and pepper to taste. Serve the risotto immediately with a sprinkling of Parmigiano and a wedge of lemon and sprig of mint.
– Recipe courtesy of Cook Like James