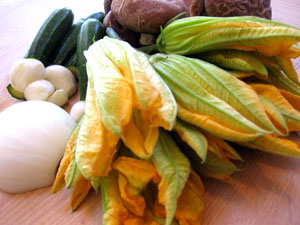 Yield 4 servings

Time 30 minutes

Ingredients

1 1/2 cups Arborio, Carnaroli, or Vialone Nano rice
10 squash blossoms
6 baby zucchinis, washed, ends trimmed, cut into thin rounds
4 garlic cloves, peeled, finely chopped
6 shiitake or brown mushrooms, washed, thinly sliced and roughly chopped
1/2 yellow onion, peeled, finely chopped
4 cups broth, vegetable, chicken, or beef, preferably home made
2 tablespoons olive oil
1 tablespoon sweet butter
Sea salt and pepper

Method

Slice open each squash blossom. Cut off the stem and pistil and discard. Flatten the blossoms on a cutting board and cut length-wise into thin strips. In a large saute pan, heat 1 tablespoon of the oil and saute all the vegetables until lightly browned. Remove and set aside.

In the same pan add the other tablespoon of olive oil. Season with sea salt and pepper. Add the risotto and saute on a medium flame, turning frequently, until the grains start to be translucent, about 5 minutes.

Add 1/2 cup of broth, deglazing the pan and stirring the grains with the liquid until the broth is absorbed. Continue adding the broth, 1/2 cup at a time, allowing the rice to absorb the liquid. Keep stirring.

After 10 minutes, add back the sauteed vegetables and mix together with the rice.

After another 5 minutes, add the butter and stir well, continuing to add 1/2 cup of broth at a time. Season with sea salt and pepper. From this point on, start tasting the rice.

When the risotto is done to your taste, Make sure you have enough liquid because a good risotto has a nice amount of gravy.

Serve immediately because the rice will continue to absorb the liquid even after you've taken the pan off the burner. Sprinkle freshly grated Parmesan or Romano cheese on top.

Variations

Add a roasted tomato, skin removed, roughly torn apart, with its juice

Saute the kernels from one ear of corn with the other vegetables

Saute 1/2 cup finely chopped Italian parsley with the other vegetables

Add 1/2 cup sauteed diced sausage pieces
Add 2 pounds fresh butter clams, cooked in 1/4 cup water for 5 minutes covered over high heat, add the opened clams and broth at the same time you return the sauteed vegetables to the pan.
- Recipe courtesy of David Latt