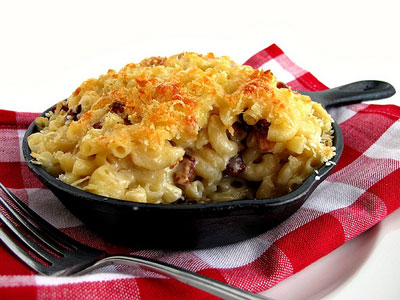 1 pound elbow macaroni
3/4 pound thick-cut bacon, diced
3 tablespoons butter
3 tablespoons flour
3 cups hot milk
fine sea salt
freshly ground black pepper
freshly grated nutmeg
1 cup shredded Raclette plus 1/2 cup for topping (6 ounce total)
1 cup shredded Gruyère (4 ounces)
1 cup shredded young Fontina (4 ounces)
1/2 cup panko breadcrumbs
Preheat oven to 375 degrees F.
Cook the macaroni in a large pot of liberally salted water a few minutes short of al dente.
Meanwhile, fry bacon in a skillet until brown but not too crisp. Remove the bacon with a slotted spoon and reserve the fat.
While the pasta cooks, melt butter in a large saucepan over medium heat. Add 3 tablespoons bacon fat and flour. Cook the roux, stirring constantly, until thickened and nutty in color, about 3 minutes. Pour in the hot milk and whisk constantly until thickened and the sauce coats the back of the spoon, about 5 minutes. Season lightly with salt, pepper, and nutmeg. Stir in the cheeses, a handful at a time, and stir until melted. Stir in the macaroni and the bacon until evenly incorporated.
Grease four 6-inch mini skillets or gratin dishes or six 12-ounce ramekins or oven-proof bowls with about 1 to 2 tablespoons bacon fat. Spoon macaroni mixture into each, mounding the top. Scatter over with remaining Raclette and breadcrumbs, dividing evenly. Drizzle over with about 1 tablespoon bacon fat. Place dishes on a large rimmed baking sheet and tent with foil. Bake for 15 minutes. Uncover and set under broiler for no more than 5 minutes to brown lightly. Serve hot.
Yield: 4 to 6 servings.
- Recipe courtesy of Joseph Erdos