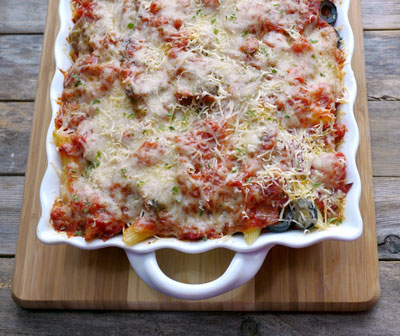 Recipe by Cathy for NoblePig.com | Serves: Serves 6
Ingredients
2 heaping cups dry penne pasta
2 Tablespoons olive oil
1-1/4 cups diced onion
8 ounces sliced mushrooms
2 cups pizza sauce
1 can (15 ounce) Italian flavored diced tomatoes
8 ounces diced salami, divided
1 cup mini pepperoni slices, divided
1/2 cup sliced olives, divided
Garnish with flecks of dried parsley (optional)
2-1/2 cupsshredded Parmesan cheese
Directions:
Preheat oven to 350 degrees F. Spray a 2-quart baking dish with cooking spray (2-1/2 quart dish works too).
Cook pasta according to package directions and set aside. In a nonstick skillet heat oil over medium-high heat. Saute onions and mushrooms until softened and browned, about 10 minutes.
In a medium sized bowl, combine pizza sauce, tomatoes and onion-mushroom mixture. Spread a thin layer of this sauce on the bottom of the baking dish. Top with half the cooked penne pasta. Sprinkle half the salami, pepperoni and olives. Top with half the sauce and 1 cup of the Parmesan cheese. Repeat with remaining pasta, salami, pepperoni, olives, sauce and finally cheese. Your pasta will be piled high in the dish and it will cook down.
Bake for 30-35 minutes until cheese is melted and sauce is bubbling. Wait 10 minutes before serving. Garnish with flecks of parsley.
- Recipe courtesy of Cathy Pollak