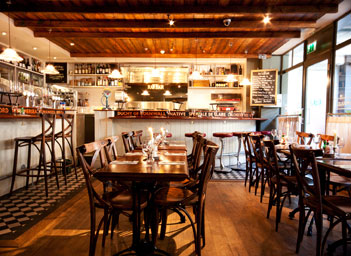 One thing I sadly miss living on the west coast of the USA are the Atlantic sea offerings in all their glorious whiteness and taste. So when I returned to London in September I set out to eat as much fish as I could. This led me to the Wright Brother's emporium just a hop, skip and a jump from Carnaby Street actually on Kingly Street and Kingly Court (such noble sounding places!!).

A multitude of rooms met my eyes plus a large outdoor patio and great sit around eating bar. I thirsted for a good white wine and the menu answered all my seeking. Lots of champagne and sparking prosecco, a long long list of whites from France and Italy starting with a vin de pays d'Oc and reaching into an 07 Meursault from Dom.Jean Philippe Fichet, and much to chose from in between. For lovers of rose and red there are some great choices too from the Veneto, Provence and Burgundy even a pinot noir from California circa 2009! Digestifs, armagnacs, cognacs and whiskeys add to the multiple choices for those of us who love to imbibe.

So firmly ensconced at the bar where two young, handsome and attentive servers waited on me, I chose the picpoul de pinet, Felines Jourdan from Provence which I actually had enjoyed when I took a barge trip up the Canal du Midi. Then onto the fish and it was a trying task to chose from the many succulent choices which are caught by day boats from Dorset and Cornwall and then transported to London. Oysters like wine owe their characteristics and flavour to the environment and region they come from so you can make your Oyster choice from Cumbrae in Scotland, Carlingford Lough in Ireland, Cochester, Essex, Brownsea Island, Dorset and Maldon in Essex.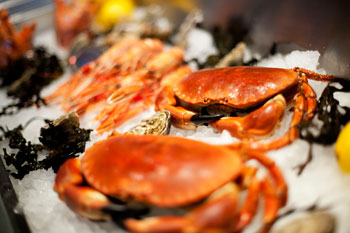 The menu offers whole cracked crab, cherrystone clams, mussels, winkles, whelks and Atlantic prawns that are choice Fruits de Mer to pick and mix.
The day by day changing varieties of fish include mackerel, whitebait, smoked salmon, Dover sole, Cornish crab, moules mariniere and fish pie...the list goes on and on – tempting yes, delicious definitely.

Finish off with a chocolate pot and Neal's Yard cheese selection and you will be well pleased. Stumble home you may but with all the many sights and sounds of Carnaby Street ringing in your ears, why not.? 'Tis a merry Christmas and a happy new year feasting at this marvelous Soho Oyster House!

SOHO OYSTER HOUSE
13 Kingly Street & G7/G8 Kingly Court
London W1B 5PW
Born and raised in England, Carolan has traveled extensively throughout Europe, North America and the UK since 1985 as a freelance international food, wine and travel writer and radio personality.