New York
I was having a particularly bad day. I won't go into details but imagine college freshmen year and you can fill in the rest. As I walked towards my dorm I saw the longest line I had ever seen and remembered that Beard Papa, the Japanese bakery that sold only cream puffs had just opened. A cream puff is the only thing that will cheer me up, I decided, and I got on the end of the block long line. After I stood there a few minutes, a homeless man, do-rag and all, came up to me and aked, "You waitin' in line for a cream puff?" He was astonished.
"Yes," I said.
"Now why you wana do a crazy thing like that?" he asked again.
"Well," I replied, "I really want a cream puff, and there's a line, so
that's what I'm doing."
"That's crazy. That's crazy, that's ridiculous," he muttered and walked off.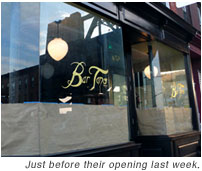 We'd finally made it all the way to Park Slope, it was less than warm, and I'm pretty sure I had mascara on my forehead from frantically trying to fix my make-up on the subway. You can imagine my dismay when the only boy I really wanted to see on my trip to New York wasn't even home. But we couldn't just call him! It would be much better if we 'just happened to be in the neighborhood'. "They can't be far. Their car is here!" But how were we gonna kill an hour in the middle of residential nowhere in 20 degree weather? That's when we found it. BAR TANO. A little haven of happiness with pressed tin walls and a zinc bar.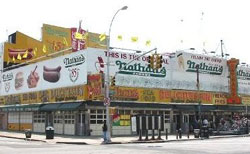 My dad was a two job guy. We lived in a representative, working class neighborhood in Brooklyn, which was to me, the paradise of the world. Representative I learned years later meant not just Jewish people, like us, but an equal mix of almost everything else. The working class is obvious.

My dad worked at a brokerage house on Wall Street as a runner from 9 to 3. That was his first job. His second job was at the Morgan Annex branch of the US Post Office, in mid-town Manhattan. He had started at the PO as a teen-ager, and was in it for the longest possible haul, a modest pension being the carrot at the end of his rainbow. His hours on that job were 4 pm to mid-night. He rode the subway to work. He never owned a car. Once in a long while he got driven home.