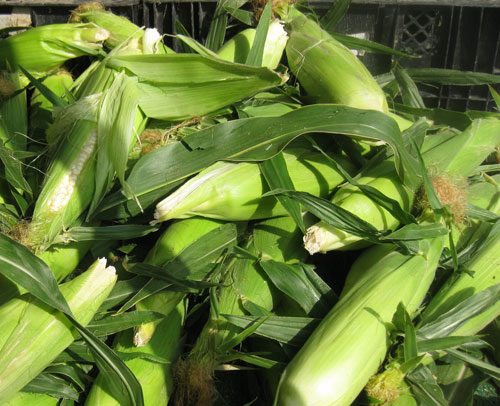 NOW: Grilled Corn on the Cob

The most important part of this recipe is the corn itself. The fresher the corn, the better the taste. When you're picking out corn, select ears that have green husks and golden silks.

Yield 4 servings plus left-overs (which you will need for the LATER recipe)

Time 15 minutes

Ingredients

8 ears of corn, shucked, silks removed, washed
3 tablespoons olive oil
Sea salt and pepper

Directions

Preheat the grill.

Break the ears in half or cut into 3" lengths. The ears you're saving to make the salad can be left whole. Pour the olive oil onto a large plate. Season with sea salt and pepper. Roll each piece of corn in the oil.

Using tongs, grill the corn on all sides until lightly browned. Remove from the grill and serve hot.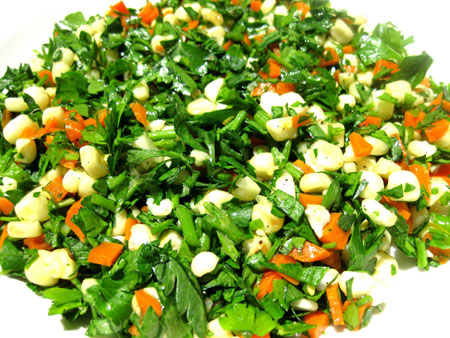 LATER: Parsley-Corn Chopped Salad

The salad can be prepared ahead and refrigerated but it tastes better if served at room temperature.

Yield 4 servings

Time 15 minutes

Ingredients

3-4 ears of grilled corn
1 large bunch Italian parsley, washed, finely chopped
1 garlic clove, skin on
1 tablespoon yellow onion, finely chopped
1 carrot, washed, peeled, roughly chopped
2 tablespoons olive oil
1/4 cup balsamic vinegar
Sea salt and pepper

Directions

Put the balsamic vinegar in a small saucepan and reduce by half over a low flame. Set aside to cool.

Using a sharp knife, cut off the kernels and put into a mixing bowl. Place the garlic clove on a skewer or the point of a sharp knife. Char in a flame so the skin burns off. Brush off any bits of burnt skin and roughly chop the garlic.

Add the charred garlic, parsley, and onions to the mixing bowl. Drizzle with the olive oil and reduced balsamic vinegar. Season to taste with sea salt and pepper.

Transfer to a serving dish.
David Latt is an Emmy-award winning television producer who turns to cooking to alleviate stress. He shares his experiences with food and his favorite recipes on his blog Men Who Like To Cook.