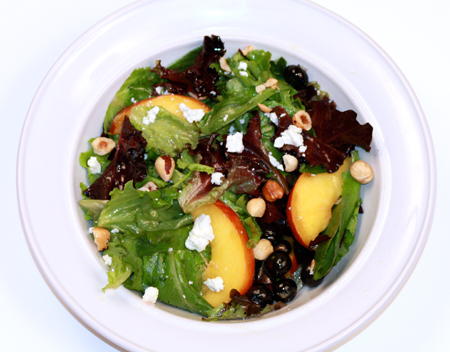 1 tablespoon finely chopped shallots
1 teaspoon Dijon mustard
1 tablespoon Balsamic vinegar
1 tablespoon red wine vinegar
6 tablespoons olive oil
½ teaspoon kosher salt
¼ teaspoon freshly ground black pepper
6 cups mixed greens
2 large (or three medium) peaches, peeled, pitted and cut into thin slices
2 tablespoons finely chopped cilantro (or parsley)
½ cup roasted hazelnuts roughly chopped
4 ounces goat (or feta) cheese, crumbled
1. In a small bowl, combine the shallots and mustard. Mix in the vinegars, and then slowly whisk in the olive oil until the dressing is emulsified. Whisk in the salt and pepper and set the dressing aside.
2. In a salad bowl, gently toss the greens with the peaches and the cilantro, adding enough dressing to coat all the greens. Divide the salad between four plates. Sprinkle each with a tablespoon of cheese, and then with a spoonful (or two) of the hazelnuts and serve.
- Recipe courtesy of Jessica Harper at http://www.thecrabbycook.com.