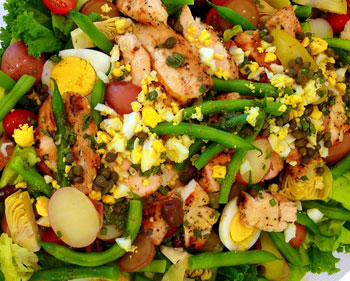 Serves 5
1-1/2 lbs. small red potatoes
4 large eggs
¼ lb. green beans, stemmed
2 boneless, skinless chicken breast halves, seasoned with salt & pepper
1 pint grape tomatoes, halved
½ cup niçoise or kalamata olives, pitted and halved
¼ cup capers, drained
For the vinaigrette:
¼ cup fresh lemon juice
2 T. minced fresh tarragon
1 T. shallot, minced
1 T. Dijon mustard
2 t. anchovy paste
1 t. honey
2/3 cup extra-virgin olive oil
Salt & pepper to taste
Boil potatoes until done and hard-cooked eggs. Plunge both into ice water to cool; drain. Slice
potatoes 1/4" thick. Chop eggs for garnish and set aside.
Blanch green beans 5 minutes. Plunge into ice water to cool; drain and set aside.
Sauté chicken in oil over medium-high heat until cooked through (about 8 minutes per side). Cut into 1/4"-thick slices. Prepare tomatoes and olives.
Whisk first 6 vinaigrette ingredients together in a small bowl. Whisk in olive oil slowly to blend. Season to taste. Combine potato slices, green beans, sliced chicken, tomatoes, capers and olives in a large bowl. Drizzle with vinaigrette and toss lightly to coat. Transfer salad to a platter and garnish the top of the salad with egg.
- Recipe courtesy of Cathy Pollak