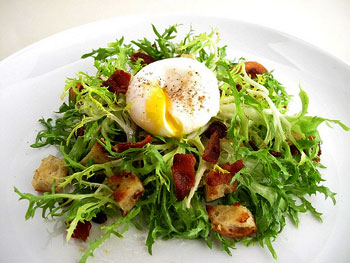 olive oil
1 tablespoon butter
1 garlic clove, finely chopped
1/2 baguette, cut into cubes
fine sea salt
freshly ground black pepper
4 strips bacon
1 tablespoon white-wine vinegar
1 teaspoon Dijon mustard
4 large eggs
1 teaspoon white vinegar
8 ounces frisée, torn into pieces.

To make croutons, warm 1 tablespoon olive oil and butter in a sauté pan set over medium heat. Add garlic and cook for 1 minute. Add cubed bread and toast, tossing often, until brown and crisp, about 5 minutes. Season with salt and pepper.

Wipe out pan and return to medium-high heat. Add bacon and cook until all fat has rendered and bacon is crisp. Remove bacon to plate. Reserve remaining fat in the pan.

Crack each egg into an individual ramekin. Prepare a bowl of ice water.

Bring a shallow saucepan with 3 inches of water and white vinegar to a boil. Reduce to a simmer. Once large bubbles have subsided and only small bubbles remain, carefully slide each egg into pan with ramekin placed close to the surface of the water. Poach 2 eggs at a time for 3 to 4 minutes. Using a slotted spoon, remove eggs to ice water.

In large bowl make the vinaigrette by whisking together 2 tablespoons olive oil, 1 tablespoon reserved bacon fat, white-wine vinegar, and mustard. Season with salt and pepper. Add frisée and toss to coat.

Divide the greens among four plates. Top each salad with croutons. Crumble 1 strip bacon per plate. Carefully remove eggs from water bath and blot with a paper towel. Remove any lacy edges. Place 1 egg on top of each salad and sprinkle with salt and pepper. Serve immediately.
Yield: 4 appetizer servings.
- Recipe courtesy of the Gastronomer's Guide.