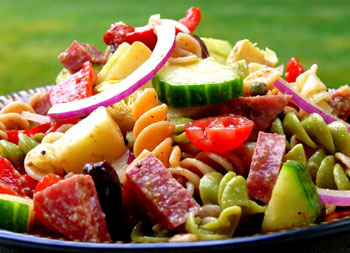 From Cuisine at Home

For the vinaigrette:
1-1/2 Tablespoons capers, drained
2 teaspoons anchovy paste
2 teaspoons minced garlic
1/4 cup red wine vinegar
1 teaspoon ground oregano
6 Tablespoons extra virgin olive oil
Black pepper to taste

For the salad:
8 oz dry tri-color rotini pasta
2 cups seeded, sliced cucumbers
1 cup halved grape or cherry tomatoes
1 cup diced smoked mozzarella
1 cup diced Italian salami
1 cup thinly sliced red onion
3/4 cup pitted and chopped kalmata olives
1/2 cup pepperoncini, rinsed and stemmed
1/2 cup sliced roasted red peppers
1/2 cup marinated artichoke hearts, quartered
2 Tablespoons capers, drained

Cook pasta in a large pot of boiling salted water, according to package directions. Drain pasta, rinse with cold water and set aside.

Puree capers, anchovy paste and garlic for the vinaigrette in a food processor. Add vinegar and oregano; pulse to combine. Slowly drizzle in oil and blend until emulsified. Season with pepper.

Mix together cooked pasta, cucumbers, tomatoes, mozzarella, salami, onion, olives, pepperoncini, roasted peppers, artichoke hearts and capers for the salad in a large bowl. Toss with vinaigrette to coat. Refrigerate overnight; just before serving season with salt and pepper.
- Recipe courtesy of Cathy Pollak