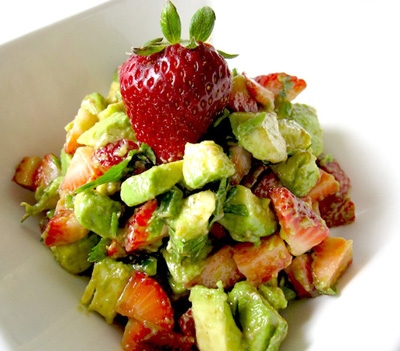 Sweet summer strawberries at their peak flavor combine with the buttery creaminess of ripe avocados to deliver one stunning salad. Just toss it all together with a simple lemon vinaigrette for a great seasonal salad.
Strawberry Avocado Salad
2 avocados peeled, pitted and chopped
1 cup fresh strawberries finely chopped
1 tart apple, cored and chopped
1/2 jalapeno minced, seeds removed
1/4 cup chopped fresh basil
1/4 cup chopped fresh mint
2 cups fresh arugula, optional
1. Gently combine salad ingredients in large bowl and drizzle with 2-3 tablespoons of vinaigrette and toss to combine. Serve on its own, or over a bed of arugula.
Simple Lemon Vinaigrette
1/2 teaspoon grated lemon zest plus 3 tablespoons fresh lemon juice
1 tablespoon minced shallot
1 teaspoon honey or agave nectar
1/2 teaspoon mayonnaise
Salt and pepper
Pinch cayenne
3 tablespoons extra-virgin olive oil
Whisk lemon juice, zest, shallot, honey, mayonnaise, ¼ teaspoon salt, and ¼ teaspoon pepper in nonreactive bowl until smooth. Whisking constantly, slowly drizzle in oil. (Dressing should appear homogeneous, glossy, and slightly thickened, without any pools of oil on surface.) Store dressing in a small mason jar until ready to use. Shake well before using.
- Recipe courtesy of Cook Like James