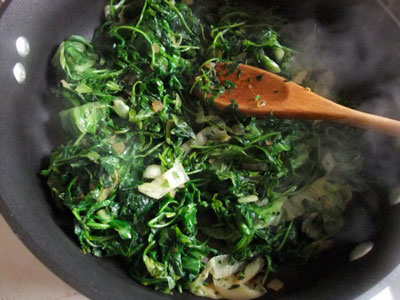 Serves about 4 as a side dish

2 Tablespoons extra virgin olive oil
1/4 cup chopped onion
1 clove garlic minced
1 cup frozen spinach
8-10 leaves of escarole
1/2 a bag of arugula, about 4 handfuls

Heat a large skillet over medium high heat. Add the olive oil and when hot, add the onion. Cook for three minutes, stirring frequently with a wooden spoon, add the garlic and cook for just 30 seconds then add the spinach and the escarole. Cover and turn the heat down to low. Let it cook for a minute or two, just until the spinach barely defrosts. Remove the lid and stir, then add the arugula and stir. The arugula will wilt very quickly, in just a couple of minutes. Season with salt and you're done!
- Recipe courtesy of Amy Sherman