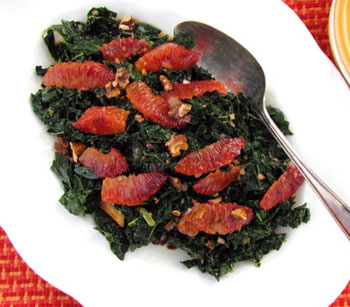 This recipe calls for segmenting a blood orange or orange—and it also calls for a tablespoon of the citrus juice. So segment your fruit first (over a bowl to catch the juices) and you can use some of the juice in the sauce mix. The segments will also continue to give off juice as they sit; feel free to include those juices in your final dish, too.
1 tablespoon maple syrup
1 tablespoon balsamic vinegar
1 tablespoon fresh blood orange or orange juice
1 large bunch (about 10 to 11 ounces) Tuscan kale
kosher salt
1 tablespoon extra-virgin olive oil
1/2 tablespoon unsalted butter
1 1/2 to 2 teaspoons minced fresh garlic
big pinch crushed red pepper flakes
1 blood orange or small orange, peeled and segmented
2 tablespoons coarsely chopped toasted walnuts or pine nuts
In a small bowl, whisk together the maple syrup, balsamic vinegar, and blood orange or orange juice. Set aside.
Fill a Dutch oven or other 4-quart pot two-thirds full of water. Add two teaspoons salt to the water and bring it to a boil.
Remove the ribs from the kale by grabbing the rib with one hand and ripping the two leafy sides away with the other hand. (Or use a paring knife to slice along the stem to cut it away from the leaves.) Discard the stems and chop the leaves into bite-size pieces.
Add the kale leaves to the boiling water and cook for 4 minutes. Taste a leaf—if it still feels tough or a bit rubbery, continue to cook the leaves for 1 to 2 minutes more.
Drain the kale very thoroughly in a strainer in the sink. Press down on the kale to remove some excess liquid. (You can use a folded over dishtowel if the kale is too hot to touch.) Let sit for a minute and then transfer to a mixing bowl. Put the blood orange or orange segments in a separate smaller bowl.
Meanwhile, in a small nonstick skillet, heat the olive oil and butter over medium low heat. When the butter has melted, add the garlic and the red pepper flakes. When the garlic begins to simmer, cook for just about 1 minute longer (do not let the garlic brown). Stir in the maple-balsamic-orange mixture and turn the heat up a bit to bring the mixture to a simmer. Simmer just briefly—about 30 seconds—and remove the skillet from the heat. Spoon about 2 teaspoons of the sauce mixture over the citrus segments. Pour and scrape the remaining sauce over the kale, season with a pinch of salt, and stir well.
Arrange the kale on a warm serving platter, garnish with the blood oranges, and drizzle over any juices or sauce left in both of the bowls. Sprinkle the toasted walnuts over all and serve right away.
Serves 3 as a side dish.
- Recipe courtesy of Susie Middleton