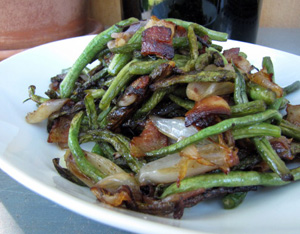 If you don't have pole green beans, don't worry. This recipe will work great with any mature green beans—just choose the largest beans you can find when you're shopping. This method of "slow-sautéing" involves a crowded pan (the opposite of what you would think of for a quick sauté), but I promise you it works great. Keep the pan at a gentle sizzle—you can always slow browning down by lowering the heat. The end goal is veggies that are cooked through and nicely browned, too.
2 teaspoons orange juice
1 teaspoon red wine vinegar
3 tablespoons extra-virgin olive oil
12 ounces pole green beans, trimmed and cut into 2- or 3-inch pieces
4 large shallots, peeled and cut lengthwise into ½-inch wedges (keep a little of the stem end intact if you can)
2 ounces bacon (about 2 pieces), cut into 1-inch pieces
kosher salt
½ tablespoon unsalted butter
In a small bowl, combine the orange juice and vinegar and set aside. In a 10-inch straight sided skillet, heat the olive oil over medium heat. Add the beans, shallots, bacon, and a scant teaspoon of salt. Using tongs, toss to break up the bacon and to coat everything with the oil and salt. Reduce the heat to medium-low. Cook, stirring occasionally at first and a little more frequently after browning begins, until the vegetables are all very-well browned and limp (the bacon will be cooked through and some pieces will be crisp), about 22 to 25 minutes. Remove the pan from the heat, add the butter and the orange juice mixture, and immediately stir to incorporate the liquids and melting butter into the beans. Transfer the vegetables to a serving dish or individual plates and serve hot or warm.
Serves 3 to 4 as a side dish
- Recipe courtesy of Susie Middleton