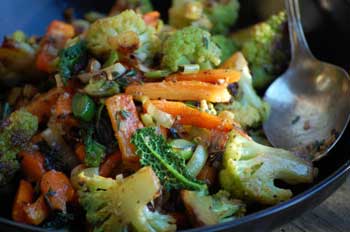 If you want to double this recipe, use a larger Dutch oven (like a 6 or 7 quart). The little bit of tapenade here pairs deliciously with the Broccoflower but if you are not an olive person, feel free to mess around with the finishing sauce. (Use a dash of balsamic, soy or Worcestershire with the orange juice.) Whatever you do, be sure your cooking pot has a lid—you'll need it to trap moisture to help cook the veggies. You can substitute cauliflower for the broccoflower, but it will take a bit longer to cook and may need a little more butter for moisture.
2 teaspoons orange juice
1/2 teaspoon olive tapenade
1/4 to 1/2 teaspoon freshly grated lemon zest
2 tablespoons unsalted butter (1 tablespoon cut into 4 pieces and kept chilled in the refrigerator)
3 tablespoons extra-virgin olive oil, more if needed
1/2 pound carrots (or up to 10 ounces), peeled and cut into sticks 1 1/2 to 2 inches long and about 3/8 to 1/2-inch wide and thick
kosher salt
1/2 pound 1-inch Broccoflower florets, each cut in half to have one flat side
1 small leek, thinly sliced and washed (about 2/3 cup)
1 to 1 1/2 teaspoons minced garlic
handful baby kale leaves or other tender greens
2 teaspoons chopped fresh thyme
In a small bowl, combine the orange juice, tapenade, lemon zest, and 1 tablespoon water.
In a small (4-quart) Dutch oven or other deep, wide pan, heat 1 tablespoon of the butter and 1 tablespoon of the olive oil over medium-low heat. Add the carrots and 1/2 tsp. salt. Cover and cook, stirring frequently but gently (a silicone spoonula works well), until the carrots are lightly browned and just tender (test with a paring knife), about 12 to 14 minutes. With a slotted spoon, transfer the carrots to a plate.
Add 1 tablespoon olive oil to the pan. When the oil is hot, add the Broccoflower and 1/2 teaspoon salt. Stir, cover, and cook, stirring frequently and gently, until all the florets are browned and mostly tender, about 6 to 8 minutes. (Don't worry if the broccoflower absorbs all the fat at first—it will give off moisture as it continues to cook. Return the lid quickly after each stir.) With a slotted spoon, transfer the broccoflower to the plate with the carrots.
Turn the heat to low, add 1 more tablespoon of olive oil, and add the leeks and a pinch of salt. Cover and cook, stirring frequently, until the leeks are just softened and a bit browned, about 4 to 6 minutes. Add the garlic, stir, and cook until softened, about 30 seconds. Remove the pan from the heat or turn the heat off under the pan and immediately return the carrots and Broccoflower to the pan. Add the kale leaves and thyme and pour in the reserved orange juice mixture. Stir immediately, add the cold butter pieces, and continue stirring gently until the butter melts (just a few seconds). Transfer to a serving bowl and serve immediately.
Serves 2 to 3
- Courtesy of Susie Middleton