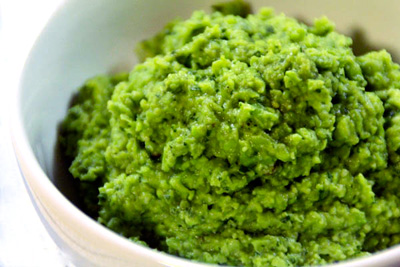 1/2 cup low-sodium chicken broth
1 pound frozen peas, not thawed
2 cups chopped Boston lettuce or Bibb lettuce
2 tablespoons chopped fresh mint
4 tablespoons unsalted butter
1/2 teaspoon sugar
1 tablespoon fresh lemon juice
Sea Salt and pepper
1. Bring broth, peas, lettuce, mint, butter, sugar, and salt and pepper to taste to simmer in medium saucepan over medium-high heat. Cover and cook until peas are tender, 8 to 10 minutes.
2. Transfer to food processor, add lemon juice, and pulse until coarsely mashed, about ten 1-second pulses Adjust seasonings with salt and pepper and serve.
- Recipe courtesy of James Moore