Our heartfelt prayers and best wishes go out to Senator McCain - the Editors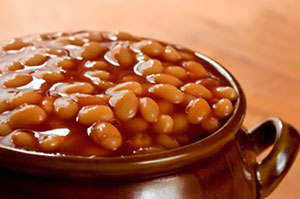 1 16oz. can red kidney beans
1 16oz. can B&M baked beans
1 cup ketchup
1 cup packed brown sugar
1 tablespoon butter
1 medium onion-chopped
1 tablespoon vinegar
1 teaspoon yellow French's mustard
4 strips fried bacon, cooled and crumbled

In a skillet sauté chopped onion with a tablespoon of butter. In a large baking pot combine kidney beans, B&M baked beans, ketchup, brown sugar, vinegar, mustard, and crumbled bacon. After combining and stirring enough to mix the ingredients, and the sautéed onions. Mix well. Bake in a covered dish at 350-375°F for 35 minutes or until piped hot

The dish is perfect with barbecued food.
ENJOY!