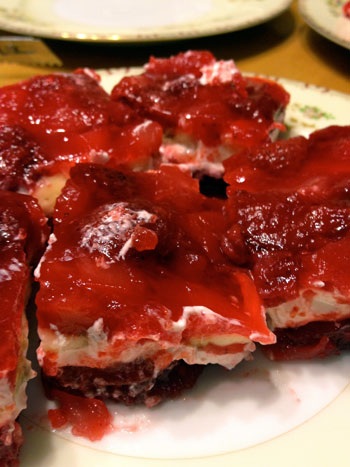 1 package (6 ounces) strawberry gelatin
1 cup boiling water
2 packages (10 ounces each) frozen sweetened sliced strawberries, partially thawed
1 can (20 ounces) crushed pineapple, slightly drained
3 medium bananas, sliced into 1/4" rounds
2 cups (16 ounces) sour cream
2 teaspoons sugar
1/2 teaspoon vanilla extract
1. In a large bowl, dissolve gelatin in water. Stir in strawberries and pineapple. Pour half of the mixture into a 13-in. x 9-in. dish. Refrigerate for 1 hour or until set.
2. Set the remaining gelatin mixture aside. Combine the sour cream, sugar and vanilla. Spread evenly over the chilled gelatin. Be gentle.
3. Place banana slices evenly in single layer over the sour cream.
4. Pour remaining gelatin mixture over top and smooth out so it covers the sour cream/banana layer evenly. Chill overnight.
5. When ready to serve cut into squares and plate.
Yield: 12-15 servings.
- Recipe courtesy of Lisa Dinsmore