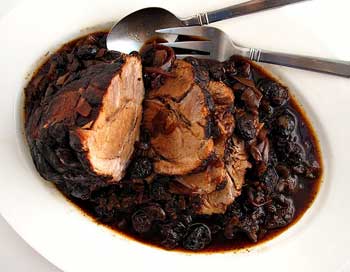 Braising is one of those cooking techniques that's made for winter. When you've got the time and you're stuck indoors on a cold day, braising low and slow is the way to go. Almost anything can be braised, but tough cuts of meat like beef chuck, lamb shoulder, and pork shoulder are the best. Under a tight-lidded pot, these meats go meltingly tender—with the touch of a fork it falls apart.
The key to a flavorful braise is the liquid. Many classic recipes use red wine or beer, such as ale or stout. But braising in soda, either ginger ale or cola, also produces mouthwatering results. Since a standard cola recipe uses a number of ingredients (including roots, spices, and herbs), the soda acts like a very flavorful broth. It all lends wonderful flavor to the meat. This pork shoulder braise features the flavors of Mexican cola.
To enhance the flavor further, I add balsamic vinegar for tanginess and brown sugar for sweetness. Dried cherries lend another level of flavor as well as texture. Since I love cherry cola, it's a win-win. After braising the meat, I like to reduce the liquid to create a luscious sauce. Simply serve the pork thickly sliced with the sauce alongside plus some boiled or mashed potatoes—it's the perfect Sunday dinner.
Make this recipe on the weekend when you have the time. It can even be made ahead and then chilled. The fat will be even easier to skim when it's cold. Simply rewarm and reduce the sauce before you serve it.
Cola-Braised Pork Shoulder with Onions and Dried Cherries

2 tablespoons olive oil
4-pound boneless pork shoulder, tied
fine sea salt
freshly ground black pepper
2 large white onions, sliced
3 garlic cloves, finely chopped
1 tablespoon tomato paste
1/3 cup balsamic vinegar
1/4 cup brown sugar
2 12-ounce bottles Mexican cola, preferably Jarritos
2 cups water
2 bay leaves
1 cup dried cherries

Preheat oven to 300 degrees F.

Warm oil in a Dutch oven set over medium heat. Season the pork with salt and pepper. Sear the pork shoulder on all sides until brown, about 15 minutes. Remove to a plate. Add onions and sauté until soft and translucent, about 5 minutes. Add garlic and sauté until fragrant, about 1 minute. Stir in tomato paste to coat the vegetables. Deglaze the pan with vinegar. Stir in sugar until dissolved. Add cola, water, and bay leaves. Nestle in pork shoulder. Bring to a simmer and cover. Transfer to oven and cook for 1-1/2 hours. Remove from oven and turn pork shoulder. Add cherries, recover, and cook for an additional 1-1/2 hours or until tender.

Carefully remove pork shoulder to a plate. Remove twine. Cover and keep warm.

Over a large saucepan, strain onions and cherries from sauce, and reserve. Skim surface of braising liquid with a ladle to remove fat. Set saucepan over medium heat and bring to a rapid simmer. Reduce sauce by a half, about 15 minutes. Add back onions and cherries and rewarm. Slice pork shoulder and place on platter. Spoon over with sauce and serve.
Yield: 6 to 8 servings.
Joseph Erdos is a New York–based writer and editor, butabove all a gastronomer and oenophile. He shares his passion for foodon his blog, Gastronomer's Guide , which features unique recipes and restaurant reviews among many other musings on the all-encompassing topic of food.