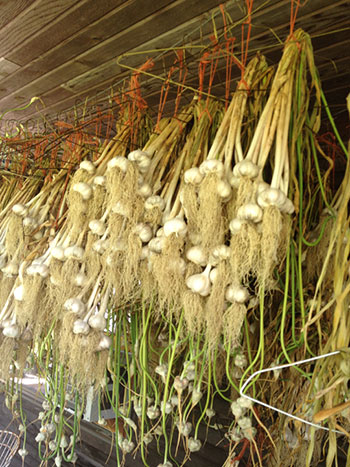 I can't remember a time when I didn't have fresh garlic in my kitchen ready to smash, mince, chop or slice to use for culinary enjoyment. I've got cookbooks devoted to garlic and file folders bulging with recipes that include several bold, pungent cloves of the stinking rose.
When I started buying garlic from local growers at the farmers market several years ago, I realized how much better it tasted than the bulbs I had been bringing home from the grocery store. Four or five years ago I attended the Minnesota Garlic Festival for the first time. That's when I got the bug to try growing some of my own. It took me a few years to finally take the first step — getting some garlic to plant.
Early last Fall, just in time for garlic planting in northern Minnesota, a box of beautiful heads of garlic arrived at my door. Travel, busy work days and wet weather prevented the small garden plot (really a bed of weeds) that I had selected for my garlic crop from getting tilled and enriched with new soil.
On the day the first snowflakes fell, I called the seed company that I'd ordered the garlic from to ask if it would be safe for me to eat those bulbs that were meant for planting. (Please remember I'm not a gardener). "Of course," said the woman at the other end of the phone. "Go ahead and eat them. Just order more next year if you decide to try again." It didn't take long for me to use up 18 bulbs of garlic — what was I thinking ordering so much for planting? (Remember, I'm not a gardener. I didn't realize each clove becomes a new head of garlic underground.)
I'll try again this year. Now I know I can buy some of my favorite garlic at the farmers market and stick some of those cloves into the ground. My little garden space is still a bed of blooming weeds that look quite pretty, actually. Hopefully, we'll get it tilled and ready for planting before the snow flies this year.
All-Purpose Garlic Crostini
1 baguette
1/3 cup olive oil
2 chubby cloves garlic, minced
1/4 teaspoon freshly ground black pepper
1/4 teaspoon sea salt
1/8 teaspoon cayenne pepper
Preheat oven to 350°F.
Cut the baguette into 1/4-inch-thick round slices. Whisk the olive oil, garlic, black pepper, salt and cayenne in a small bowl. Brush each side of the bread rounds with the olive oil mixture. Arrange the slices in a single layer on a baking sheet.
Bake the prepared bread rounds in preheated 350-degree oven for 20 minutes, turning the rounds over half-way into the baking time. Remove crostini from oven when they are golden brown and crisp. Cool completely. Store in an airtight container at room temperature.
Sue Doeden is a popular cooking instructor, food writer and integrative nutrition health coach. She is the host of Good Food, Good Life 365 on Lakeland Public Television. Her own hives full of hardworking bees and her love of honey led to the creation of her recently published cookbook, Homemade with Honey.