What do you consider a good beach read? Something entertaining? Light and fluffy? What about a bedside book? I like a vacation read that I can completely lose myself in, but next to my bed I need something I can pick up and put down endlessly. Right now I have a few of those books.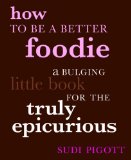 The first is How to Be a Better Foodie
and it's subtitled "a bulging little book for the truly epicurious." Can I just say if there is anything more irritating than someone using the word foodie, it has to be someone using the brand name epicurious as if they made it up. It's a website, ok? Despite the annoying title, the book is a lot of fun. It's filled with little tidbits of information that you will either find essential or completely trivial but either way it is equal parts entertaining and informative. Do you know how mustard got its name? What to savor in Franche-Comte? What and who inspired the famous blue Le Creuset? What season to eat fresh lotus flower root? It's all in there and then some. It's not a book to read cover to cover but it it enjoyable nonetheless.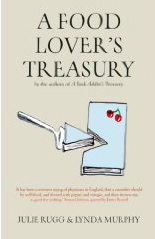 Another book I dare say you won't read cover to cover is A Food Lover's Treasury
. The tidbits in this book are all literary. Browse through bon mots or longer passages. You might find the perfect tagline, I rather like "one can say everything best over a meal." The book is organized in a pleasantly idiosyncratic way, again, it's perfect for picking at, like a plate of tapas or mezze. The book favors authors from England and English speaking countries with a few exceptions. Authors from Jane Austen to Emile Zola are included in the book so you're sure to find something to enlighten, enchant or just to while away the time until you fall asleep.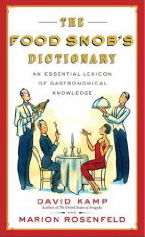 My final pick is The Food Snob's Dictionary. It's the kind of book that can make you feel smug for knowing who Gilbert Le Coze is, the difference between Wagyu and Kobe and how to correctly pronounce Grant Achatz. Of course, my esteemed local bloggers may take great offense to the definition of the Ferry Plaza Marketplace as a "one-stop San Francisco mecca for Food Snobs" then again, maybe not. The recent popularity of the Omnivore's 100 is an indication that we like showing off what we know and what we've tasted. This book falls in that category and the definitions are sometimes witty, sometimes snide and sometimes up for debate.
Amy Sherman is a San Francisco–based writer, recipe developer, restaurant reviewer and all around culinary enthusiast. She blogs for Epicurious , Bay Area Bites and Cooking with Amy .