I am a Toaster Oven Top Chef. I'm by no means a professional like the wunderkinder you see on Bravo's reality TV cooking showdown. I don't have a fully stocked kitchen. I only own four knives. And although technically my kitchen has a real oven, it's so marred with unidentifiable char no amount of Easy Off cleaning products could restore it to a serviceable condition. What I do have is the heart of a champion, and the spirit of a competitor.

My cooking challenges may not be as fancy as Bravo's "Cook the Last Meal of a Master of the Culinary World" or "Imitate the Delicate Flavors of a Fish Dish from Le Bernardin" (though I did enjoy the episode when the Top Chefs had to cook a holiday meal using only a convection oven—been there) but they are very real. It's the end of the week and your grocery supply is dwindling. All you have are 3 eggs, wonton wrappers, the stale end of a sourdough baguette, 1/3 cup shredded cheddar, frozen soy sausage, spices, olive oil, and a tomato. Okay. Go.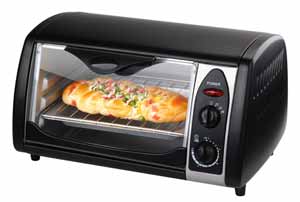 In these trying economic times where I, like many unemployed screenwriters, are living residual check to residual check (or worse yet, unemployment check to unemployment check) wasting food has come to feel like a sin. I became a member of the church of leftovers in college with the singular belief that almost any food, if properly seasoned, can be tossed into an omelet or spread on a whole-wheat pita to make an exotic flatbread pizza. But back then I was willing to accept that no matter how carefully you plan, some lingering ingredients were going to end up rotting in Tupperware at the back of the fridge. All that changed when Top Chef Season 5 premiered on Bravo.

The week prior to the reality show's November 12th premiere, I had gone grocery shopping as usual. I bought some cereal and omelet fixings and ingredients for three recipes: Eggplant and Tomato Bruschetta with Rosemary Chicken Breast, Cilantro Basil Chicken Dumplings with an Asian inspired Cucumber Salad, and Cauliflower Gratin with Crumbled Turkey Bacon (a modification of a recipe by actual Top Chef competitor, Casey, season 3). But, as always happens, at the end of the week, I found myself staring at a nearly empty fridge full of eclectic ingredients and no obvious use for them. So, in the spirit of Top Chef, I decided to create my own Quickfire Challenge: use as many leftover ingredients as possible to create a single dish. I won and Eggs Baked in Tomato with Soy Sausage Dumplings was born.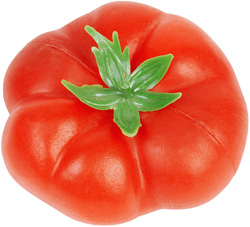 Ingredients:
3 Eggs
Wonton wrappers
1 Stale End of a Sourdough Baguette
1/3 Cup Shredded Cheddar Cheese
3 Morning Star Soy Sausage links
1 Tablespoon Freeze Dried Chives
Salt, Pepper, Garlic Powder to Taste
Olive Oil Spray
1 Large Tomato

Spray the bottom of a small pyrex baking dish to minimize sticking. Hollow out the tomato and place it in the dish. Season the inside of the tomato with salt, pepper, and garlic powder. Place the Sourdough end into the bottom of the tomato. Crack two eggs directly into the tomato, careful not to break the yoke. Bake at 375 until egg whites are cooked almost all the way through. Remove dish from oven, sprinkle with 2 tablespoon of cheddar cheese and continue baking until cheese melts.

Microwave the three soy sausage links for 1 minute until soft. Mash the links and mix them with 1 egg white, 1 tablespoon freeze dried chives, the remaining cheddar cheese, and salt and pepper to taste. Place a tablespoon of the mixture into a wonton wrapper. Fold the wrapper into a triangle and use a drop of water to seal the edges. Pan fry in olive oil spray until golden-brown.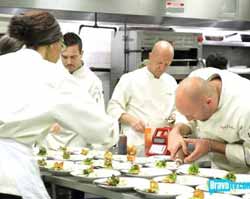 Each week since I have engaged in the Toaster Oven Chef competition creating odd but winning recipes such as Apple, Feta, and Carmelized Onion "Lasagna", Cottage Cheese and Frozen Raspberry "Blintzes" in an Egg white "Crepe," And a Red Onion, Spinach and Maple-Chipotle-Turkey Bacon Wrap. And, sadly, I've also created some losing recipes that I won't bother to enumerate—though I would like to take this opportunity to publicly apologize to Anna Harari for making her eat a frittata made from whipped egg whites and pureed broccoli.

If you insist on consulting a recipe book every time you make a meal, this may not be the competition for you. But if you, like me, learned to cook by throwing things in a pan and testing the stomach strength of your dinner companions, you have what it takes to be a champion. With the Season Finale of Top Chef Airing on Bravo next week, it's your last chance to see the real Top Chefs compete for the title, but it's never too late to become a Toaster Oven Top Chef.